Magic Tuber Stringband :: When Sorrows Encompass Me 'Round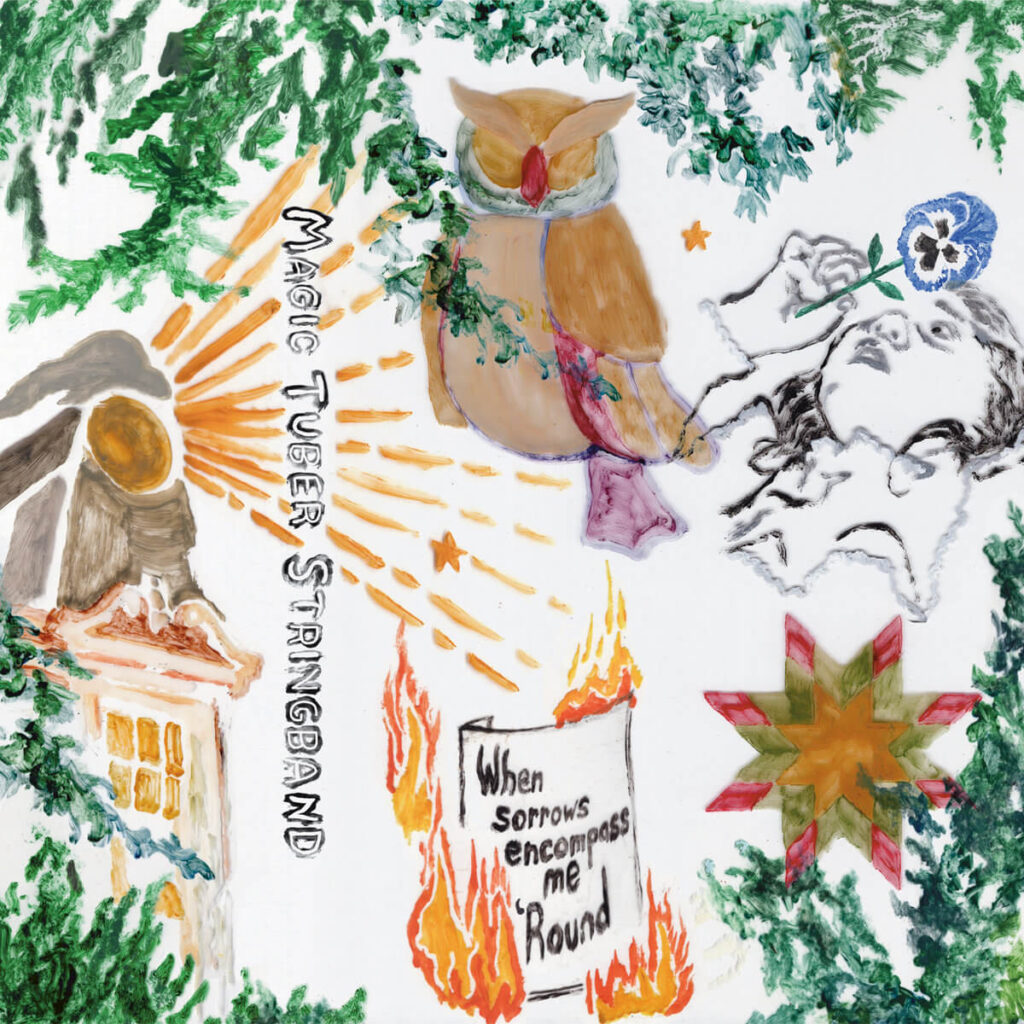 On Magic Tuber Stringband's second studio release, the Durham-based duo of Evan Morgan and Courtney Werner continue their exploration of folk musics within and without North Carolina. Over the course of seven new compositions and two traditional ones, Magic Tuber find harmony between Appalachian fiddle and banjo tunes and modern approaches to tone and syncopation. The title song, "When Sorrows Encompass Me 'Round," is a traditional hymn arranged for banjo and fiddle, made famous by Tommy Jarrell and Fred Cockerham, two of the most accomplished players to ever pick and scrape an old time duet. For Magic Tuber, the additions of field recordings, drone, collage, alternate tunings and picking techniques are a natural outgrowth of multi-instrumentality and the odd homemade means of sound-making in folk and jug bands. You can hear this in the extended celtic drone on "Quarry Ate the Mountain," which sounds like it could have been adapted from a highland bagpipe tune, or the staccato mash-up of violin sputter, plucking, and bird trills on "Wood Thrush Song."
"Devil on a Root Monster," one of the album's liveliest songs, leaps to a start in the sure-footed get-up-and-go style of the best Jarrell tunes. It moves easily through fertile terrain, with Werner's fiddle drawing up lovely melodic rushes and Morgan's banjo acting as steady percussive accompaniment. One of the things that sets the duo apart from other modern folk acts, particularly the strain of primitive folk that has become so ubiquitous in the post-Takoma era, is its grounding in the blues and old time music of the North Carolina mountains and Piedmont. 
True to the roots of their sound, the duo function as multi-instrumentalists and sometime-singers, taking turns on guitar, banjo, fiddle, and vocals (along with the additions of a jaw harp and the tricks of a modern recording studio). On "Teo's Farewell," Morgan's delicate fingerpicking opens up the spaces between notes, which Werner's fiddle slips into easily with the effervescent charm of a kingfisher winging into a strong breeze. 
Hybrid musics such as this, and their creators' instrumentation choices, call attention to genre lines and the ways in which those lines might be smudged or redrawn. Morgan and Werner's music involves a dynamic range of sound-making devices. As a result, the distinctions between violin and fiddle, or folk and minimalism, become blurred when drone and folk motifs collide. But beyond its formal intrigue, the duo's music also engages in mythologies of people and their relationship with the natural world in an intoxicating fashion. Morgan and Werner's place in the lineage of North Carolina folk music traditions is undeniable, and their will to experiment and uncover lost sounds is what makes their music generative. It is at turns joyous and world weary, evocative of the ambivalence of our burdens, which nevertheless we must soldier on between this world and that. | h wheless
For heads, by heads. Aquarium Drunkard is powered by its patrons. Keep the servers humming and help us continue doing it by pledging your support via our Patreon page.