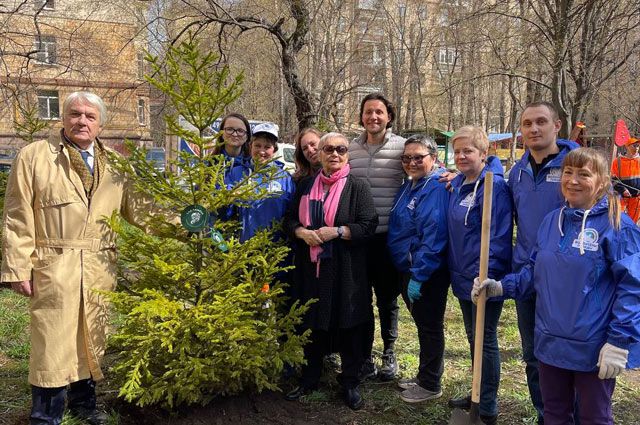 Residents of house No. 50 on Frunzenskaya embankment planted trees in honor of veterans of the Great Patriotic War living here. They also honored the memory of the heroes who died in that war. 40 people, including residents of the house, including Honored Artist of Russia Vyacheslav Manucharov, Honored and People's Artist of the Russian Federation Yuri Shlykov, Honored Artists of the Russian FederationVladimir Kirsanov > and Olesya Zheleznyak, Russian actress and singer Nadezhda Angarskayatogether with volunteers and project manager Olga Stepchenko.
«More and more young people are joining the international action. By planting trees, they express gratitude to the heroes and strive to perpetuate their memory. It is important for us that veterans see their lively response and know that their great feat will not be forgotten, — said the general director of ANO "Garden of Memory" Olga Stepchenko.
He proposed to set up a local "Garden of Memory" here. Vyacheslav Manucharov, who has been taking part in the action for several years. According to him, "Garden of Memory" allows you to show children how important it is to keep the memory of their history and those who gave their lives defending the Motherland.
"I was lucky to be born and raised in a courtyard with a rich history. I remember how, returning from kindergarten with my dad, I saw that same Lazar Kaganovich on a bench in the yard. Many Heroes of the Soviet Union lived in our house at different times, but not all of them have survived to this day. Unfortunately, many of the values ​​of that generation go with it. And only by living example can we show children what memory means and how important it is to keep it», — said Honored Artist of Russia Vyacheslav Manucharov.
Each of the participants of the action in the courtyard of the Moscow house was able to pay tribute to the memory and respect for their hero. Honored Artist of the Russian Federation Olesya Zheleznyak planted a tree in memory of the husband of her aunt — Nikolai Dvornik, who reached Berlin.
"I was little, I found him already an adult, even an elderly one. He was always very majestic, kind and cheerful. I know that he reached Berlin. On May 9, he always put on his tunic in orders. Victory Day — wonderful holiday. Our fathers, brothers and grandfathers will live forever as long as we remember them, — said the Honored Artist of the Russian Federation Olesya Zheleznyak.
Another participant of the — Lilia Abramova(Tatarka FM) — planted a tree in honor of her grandfather, who died defending his native hero city Sevastopol. Creation of the "Garden of Memory" Abramova called the best start of the day in her life.
"Our children, grandchildren and great-grandchildren must know about the Great Patriotic War so that it doesn't turn out like their neighbors. I have never seen my grandfather, but I think that I am very similar to him, because I look like my dad, and he looks like his father. For me, he is a hero who died defending his hometown of Sevastopol, », — said Lilia Abramova.
Three veterans live in the house, in the courtyard of which there is a garden. Participants of the event came to visit one of them to congratulate on the upcoming 100th anniversary. Zoya Mikhailovna Shmakovaduring the Second World War she was a nurse and saved dozens of lives. She, on Stalin's personal order, was the first to move into this house. Today the woman — the oldest resident of the house and the entire Khamovniki district.
"Life flies by in a moment. Cherish everything she gives you. Love people close and dear to your heart, take care of our beautiful nature. Find time for good deeds and communication, because this is the greatest joy for us, », — said Zoya Mikhailovna Shmakova.
A 95-year-old resident of the district also took part in the event, who said that in May 1945 he took Berlin on a tank. Then he was only 18 years old.
House No. 50 on Frunzenskaya Embankment is known for having the second unspoken name "house of former leaders", because at one time L. M. Kaganovich, V. M. Molotov and G. M. Malenkov. He himself was built by order of the Department of Affairs of the Council of Ministers. The project of the house was implemented by a group of architects headed by Yakov Belopolsky and Eugene Stamo. Belopolsky later became famous for his co-authorship in the projects of the monument "The Motherland Calls!" in Volgograd, the building of the circus on Vernadsky Avenue, as well as the monument to Yuri Gagarin on Leninsky.
Rate the material