Winged Wheel :: No Island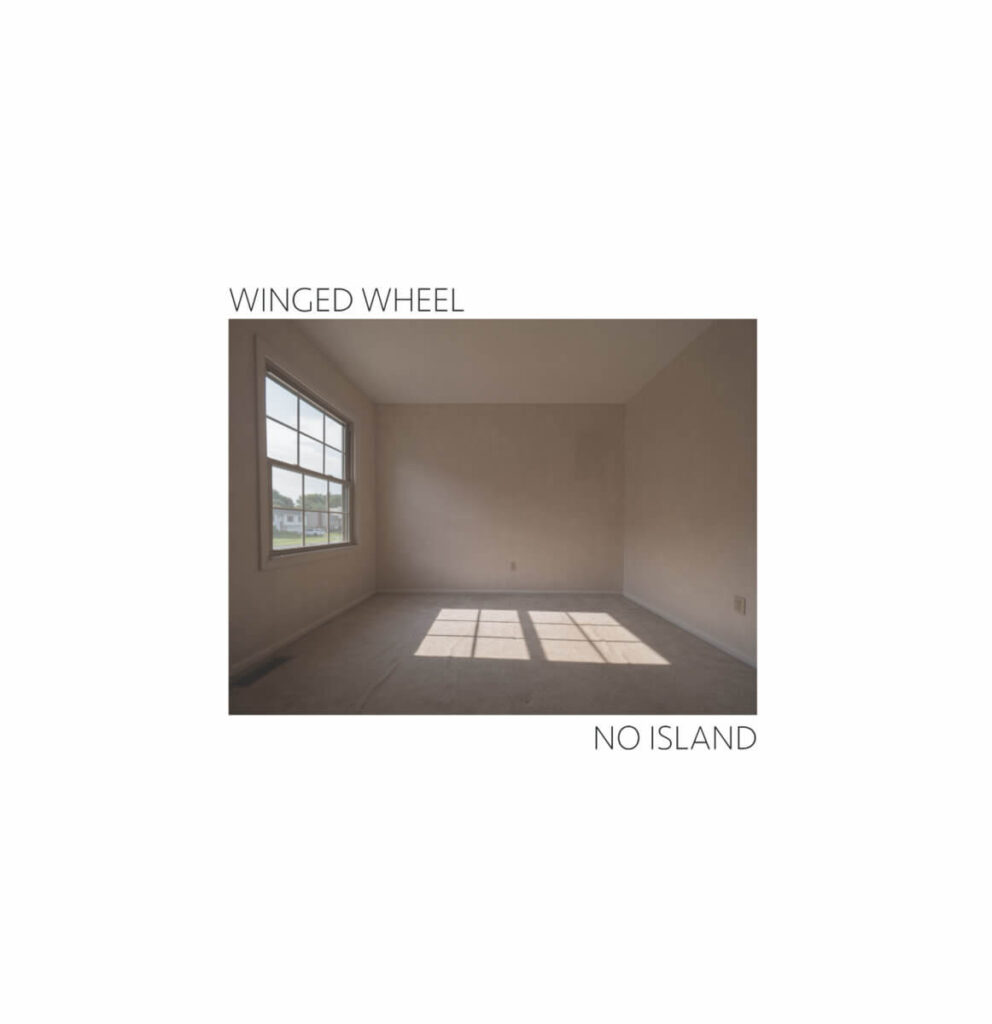 Is it still considered a supergroup if the members don't create the songs in the same room? This is probably a moot point when confronted with a debut full-length as potent as Winged Wheel's No Island, their 12XU label debut. The players include some of the underground's brightest minds: vocalist Whitney Johnson (Damiana, Matchess), guitarist/bassist Cory Plump (Spray Paint, Expensive Shit), guitarist Matthew Rolin (Powers/Rolin Duo), and beatmaker Fred Thomas (Tyvek and about 23 other bands/projects). They constructed No Island remotely, with the record kickstarted by Plump requesting drum loops from Thomas, over which the former laced guitar and bass parts and to which Rolin added additional guitar embellishments. Finally, Johnson bestowed vaporous vocal exhalations that split the difference between My Bloody Valentine's Bilinda Butcher and Cocteau Twins' Liz Fraser. The result reveals the wonders of modern technology and the exceptional musicianship and editing skills of these American rock, drone, and experimental elites.
Album-opener "Monsella" unspools urgent, coiled post-punk with a cosmic drone sweeping above the tight rhythmic tussle, like some dream scenario of 154-era Wire punctuated by the motorik funk of Tago Mago-era Jaki Liebezeit and haloed by Johnson's anomic, Angela Conway-esque vocals. (Those for whom lyrics are important will be stymied by the way Johnson's voice is mired so low in the mix.) Either Rolin or Plump scrawls a manic guitar solo over the top, solidifying "Monsella" as a classic of debut album openers. "Drinking With Flies" elevates Winged Wheel's MBV/Isn't Anything infatuation to dizzying heights with Johnson's serene coos and hazed-out singing floating in a mauve blur over a swift, burbling guitar figure and clipped, efficient 4/4 beats. "Blue Pigeon" reimagines shoegaze as a jittery, jagged strain of rock rather than as frictionless sonic soma.
It's not all propulsive, Autobahn-cruising business, though. "Central Ceiling" induces a Cocteaus-y feeling of suspended animation, icy guitar tones and Johnson's delayed voice shimmering in a hall of mirrors. "Lasso Motel" detours into disorienting abstraction with field recordings from what might be a train station. The infinite jangle mantra "Stone Oaks" splays out into a fathoms-deep instrumental meditation, sans drums. Winged Wheel balance these rock and abstract instincts like champs. Let's hope they remain apart, lest they spoil the magic conjured here. | d segal
Only the good shit. Aquarium Drunkard is powered by our patrons. Keep the servers humming and help us continue doing it by pledging your support via our Patreon page.