Videodrome :: Trouble Man (1972)
(Welcome to Videodrome. A recurring column plumbing the depths of vintage and contemporary cinema – from cult, exploitation, trash and grindhouse to sci-fi, horror, noir, documentary and beyond.)
Certain soundtracks become the high-water benchmark of their respective genres, raising the cinematic bar and becoming a northern star for all subsequent films. In horror, there are landmarks such as Bernard Herrmann's Psycho (1960) and John Carpenter's Halloween (1978); in sci-fi, John William's Star Wars (1977) and Jerry Goldsmith's Planet Of The Apes (1968); in crime dramas, Nino Rota's The Godfather (1972); in comedies, Henry Mancini's The Pink Panther (1964). And in blaxploitation, there is Issac Haye's Shaft (1971) and Curtis Mayfield's Superfly (1972). Despite the variety of genres, composers, and eras of these soundtracks, they all provide a sonic blueprint for endless duplications and repurposing. These films and their accompanying soundtracks have become one and the same, gracefully aging into the categorization of "Classics" as a sense of synesthesia expounds between sound and vision. It becomes impossible to separate Jaws (1975) from its foreboding score or Jurassic Park (1993) from its triumphant orchestral flourishes.
More so than any other subgenre, the sonority of 1970s blaxploitation is two sides of the same coin: the films themselves and their accompanying soundtrack. It's impossible to think about Shaft and not automatically hear Issac Haye's quintessential title track or Curtis Mayfield's funky, wah-wah-infused classics on Superfly. There's also Willie Hutch's soundtrack for Foxy Brown (1974) and The Impression's on Three The Hard Way (1974). These films inhabit the upper echelons of blaxploitation, in no small part due to their iconic soundtracks. Within the supercharged, smooth-talking, strut-walking urbanized world of private eyes, pimps, pushers,and studs that occupy 1970s blaxploitation, there are also lesser know films and soundtracks like Trouble Man (1972).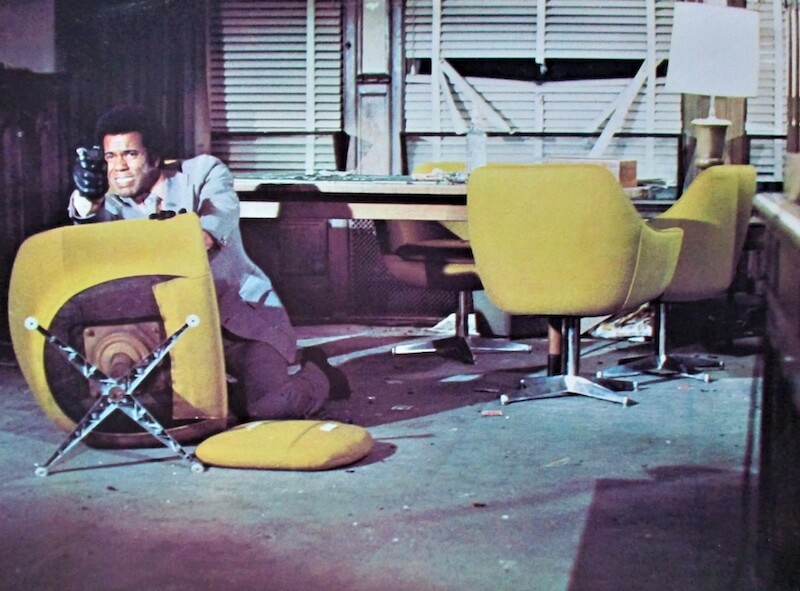 A year before Trouble Man was released, director Gordon Parks scored a hit with Shaft, the story of a tough New York City detective who plays by his own rules. Based on the success of the film and its soundtrack, producer Joel Freeman sought to replicate the winning formula of Shaft by transposing it from New York City to Los Angeles; substituting John Shaft (Richard Roundtree) for Mr. T (Robert Hooks), another hard-boiled but suave vigilante who takes justice into his own hands. Freeman, who would serve as a producer on both Shaft and Trouble Man, hired writer John D.F. Black to pen the screenplay, following up his screen adaptation of Ernest Tidyman's novel, Shaft.
Black's screenplay for Trouble Man recycles many of the same streetwise tropes as Shaft (most likely per Freeman's request). It follows the effervescently cool Mr. T as he gets caught up in the murky world of inner-city crime, eventually framed for murder by a couple of local crime bosses who will stop at nothing to get Mr. T out of the picture. With the screenplay in place and Ivan Dixon attached to direct, Freeman's next step was to find a popular musician who could create the same kind of winning soundtrack as Shaft – an essential ingredient in the recipe for blaxploitation success.
During this time, the Gordy family and Motown moved from Detroit's Hitsville USA Studios to Los Angeles, establishing Motown Record's new headquarters and studio in Hollywood, dubbed "Hitsville West." Many of Motown's artists moved with the label, including Marvin Gaye. He had just renewed his contract with Motown's subsidiary Tamla Records for a million dollars following the success of What's Going On (1971), making him the most profitable R&B artist of all time. In 1972, Motown won the rights to produce Trouble Man alongside Freeman, offering Gaye the chance to compose the film's soundtrack. Given complete creative control, Gaye enlisted fellow Hitsville transplants the Funk Brothers (the musicians behind some of Motown's greatest hits) and Hamilton Bohannon's band members to accompany him at Hitsville West. Gaye would compose the score while producing the film's soundtrack, choosing to let his illustrious vocals take a backseat to the carefully arranged instrumentals.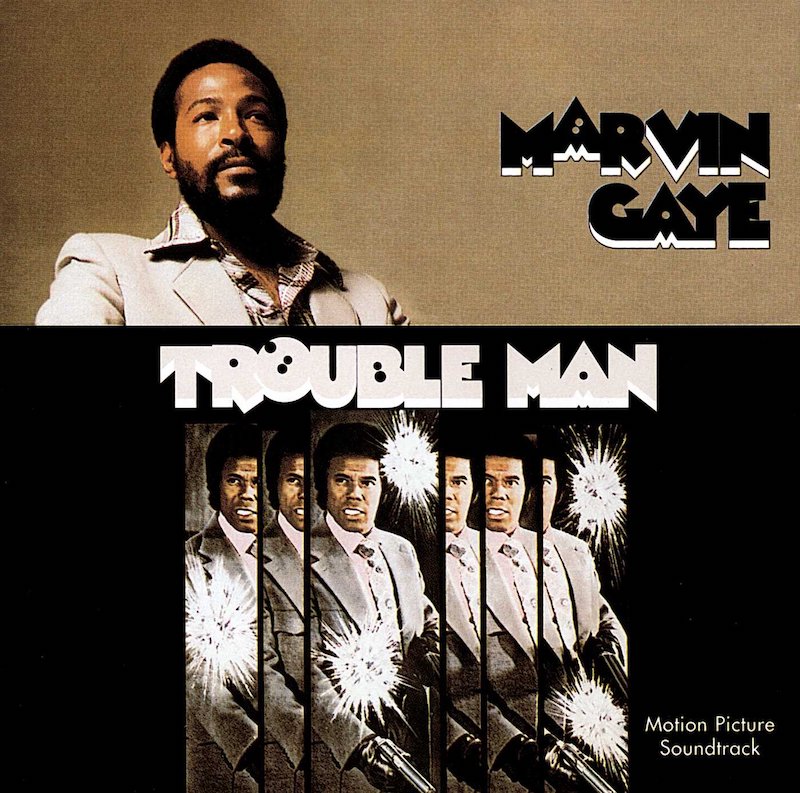 Released in November of 1972, Trouble Man's reception was a far cry from the fanfare surrounding its bankable predecessor, Shaft. The film received lukewarm reviews despite following the same blaxploitation framework as previous box-office hits and boasting an exclusive Marvin Gaye soundtrack. In his New York Times review, Vincent Canby summed up Trouble Man as "a horrible movie, but worth thinking about." A few years later, writer and critic Harry Medved included Trouble Man in his 1978 book, The Fifty Worst Films Of All Time. And while Gaye's soundtrack would reach the top twenty on the Billboard 200 charts in December of 1972, Trouble Man has become an often glossed over entry in Gaye's revered discography; a minor hiccup in between 1971s What's Going on and 1973s Let's Get It On.
In retrospect, the soundtrack for Trouble Man has eclipsed the film, a common occurrence amongst 1970s blaxploitation. But just as Trouble Man is often not mentioned in the same breath as its prosperous contemporaries, its soundtrack hasn't been awarded the same pedigree either. Arguably, its relative anonymity could be less about the music, and more the result of Gaye's compositional approach. Unlike Isaac Hayes and Curtis Mayfield, who injected their soundtracks with socio-political charged commentary ranging from race relations to urban economics, Gaye focused primarily on the internal and external condition of Trouble Man's main character, Mister T. In contrast to songs such as "Pusherman" by Curtis Mayfield from the Superfly soundtrack, which tackles problems plaguing inner-city America from an omnipresent perspective, the few lyrics that are on the Trouble Man's soundtrack don't address any issues facing inner-city communities. Nor do they comment on the social discourse surrounding urban African-American audiences, a demographic blaxploitation films were directly marketed to. Instead, Gaye's compositions – both thematically and musically – are centered on the debonair bravado of its central character. "I come up hard, baby/but now I'm cool/I didn't make it sugar/playin' by the rules/I come up hard baby/but now I'm fine/I'm checkin' trouble, sugar/Movin' down the line," Gaye sings in the opening lines of the title-track, "Trouble Man," one of the rare instances that his voice is featured (most of the time, Gaye opted to play synthesizers rather than sing).
Gaye would compose five different versions of the title-track, only one of which features lyrical vocals. Known for his inventive process of multi-tracking vocals, Gaye would double-track two lead vocal parts and overlay his tenor tracks with his falsetto. As a result, when his vocals do pop up, they have a distinctly ethereal quality, blending into the arrangement as opposed to top-lining it. Gaye's voice becomes part of the music, a ghostly reverberation that echoes in the background of his dramatic sonic landscapes.
Considering Gaye's virtuosic voice and where he was at in his career in 1972, Trouble Man's soundtrack is astonishing in context. Here we have the most successful R&B vocalist of his time, choosing to score a blaxploitation film off the heels of one of the most successful R&B vocal records – and he primarily doesn't sing. Yet, despite the notable absence of Gaye's vocals, Trouble Man showcases Gaye's extraordinary talents as a composer and producer, often overshadowed by his famous voice. A multi-hyphenated artist, Trouble Man allowed Gaye to explore his majesty as a songwriter, arranger, musician, and producer. The infectious swagger of tracks like "T. Plays It Cool" and the after-hours sensuality of "Cleo's Apartment" exhibit Gaye's musical prowess, a maestro with or without his silky voice. And when his voice does emerge, such as in the back-half of "Life Is A Gamble," he delivers some of the most soulful vocal takes of his entire career.
In its sun-drenched, West Coast salvaging of Shaft and blaxploitation "paint-by-numbers" approach, Trouble Man's lackluster legacy could be credited to its filmmakers trying to cash in on the modus operandi of the time. Rather than become a pillar of blaxploitation, Trouble Man has been abated to a cinematic footnote of the subgenre. But the impeccable soundtrack from Gaye – which functions just as well with or without its visual accompaniment – deserves to be held in the same regard as other blaxploitation soundtracks ranging from Edwin Starr to Bobby Womack; transcending beyond its genre and into the realms of "Classics." It's not only one of the best soundtracks you don't hear enough about, but one of the paramount releases of Gaye's prolific career, emblazoning him as a musical jack of all trades and a master of all of them. | e hehr
Only the good shit. Aquarium Drunkard is powered by our patrons. Keep the servers humming and help us continue doing it by pledging your support via our Patreon page.