Howard Roberts :: Guilty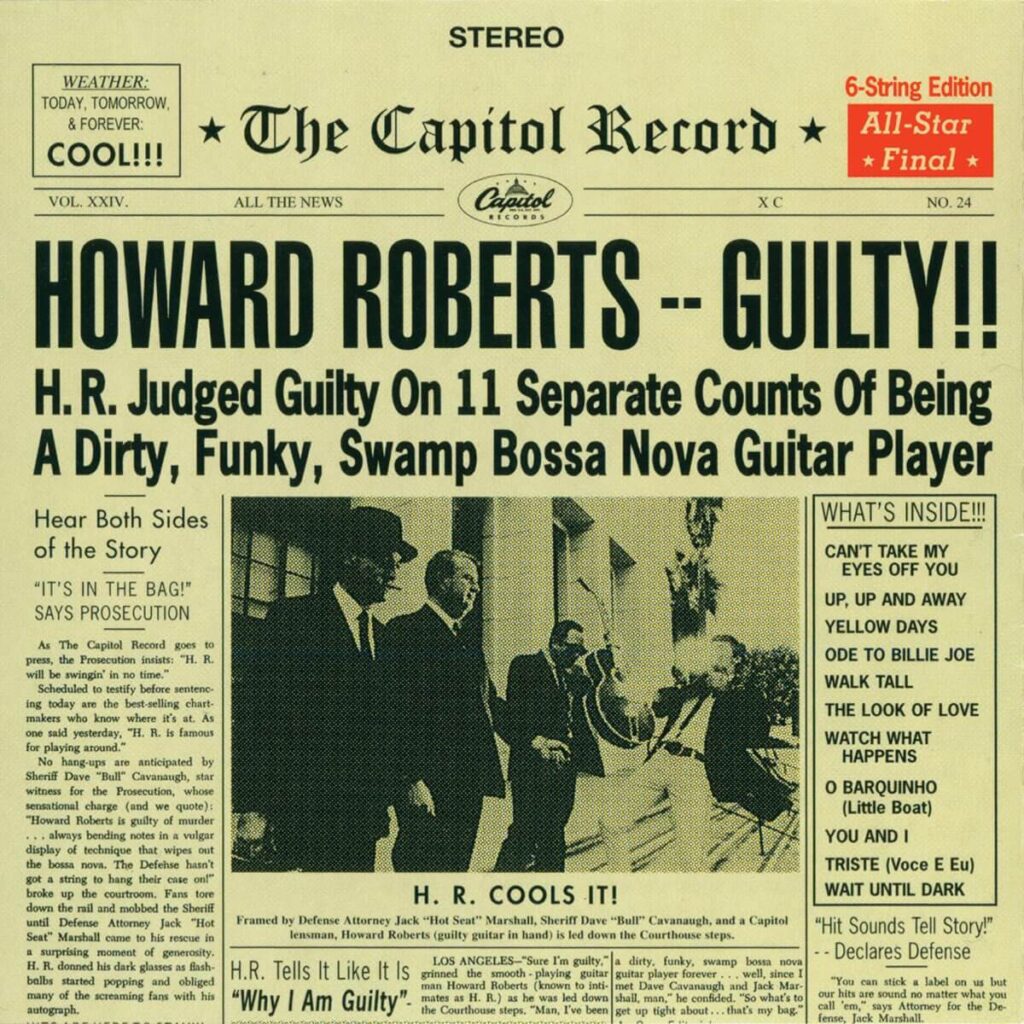 Throughout an intermittently active solo career in the '50s, '60s, and '70s, Wrecking Crew guitarist Howard Roberts—whose resolute fretwork graces recordings by Phil Spector, The Beach Boys, Sam Cooke, Peggy Lee, and countless others—boasted some of history's great truth-in-advertising album titles: 1959's Mr. Roberts Plays Guitar, 1959's Good Pickin's, and 1963's H.R. Is A Filthy Guitar Player chief among them.
However, those pale in comparison to the charming faux shock value of 1967's Guilty, whose cover declares, in bold newsprint, that Roberts has been "judged guilty on 11 separate counts of being a dirty, funky, swamp bossa nova guitar player." With Roberts' milky smooth tone, fluttering double-stops, and effortless sweeps as evidence, no jury on earth could exonerate him.
Guilty is a jazz guitar jock record in the same way that Randy Moss playing ultimate frisbee on the beach is technically a competitive sport: The stakes are low, everyone's wearing sunglasses, the duration is short—Guilty's longest track clocks in at 2 minutes and 46 seconds—and there are frequent moments of disbelief when someone performs feats of supreme beauty and athleticism without even trying. 
Over a breezy 20-minute runtime, Roberts exhibits that signature Wrecking Crew versatility — slick bossa nova (the wistful "Triste" and the punchier "The Look Of Love"), street-level organ funk (the strutting "Walk Tall"), and cheeky left-turns (a madcap 6/8 version of Frankie Valli's "Can't Take My Eyes Off You") abound, while showing off chops that'll have you downloading PDFs of his highly rated instructional guitar books from questionable corners of the internet. 
"O Barquino (Little Boat)" is its most straightforward show of virtuosity. It begins with Roberts blithely striking block chords over the song's tightly wound jumble of percussion before some loose trills herald in a more deft series of runs. The notes pepper around his band's bubbling syncopations, performed with a stylishly slack sense of time and a pinpoint sense of melodic accuracy. Like all of Guilty, it's ergonomically impressive, but playful and restrained — more concerned with everyone having a good time than hogging the ball and running up the score. | j rainis
Only the good shit. Aquarium Drunkard is powered by its patrons. Keep the servers humming and help us continue doing it by pledging your support via our Patreon page.