Plot RF special operation in Donbass and Ukraine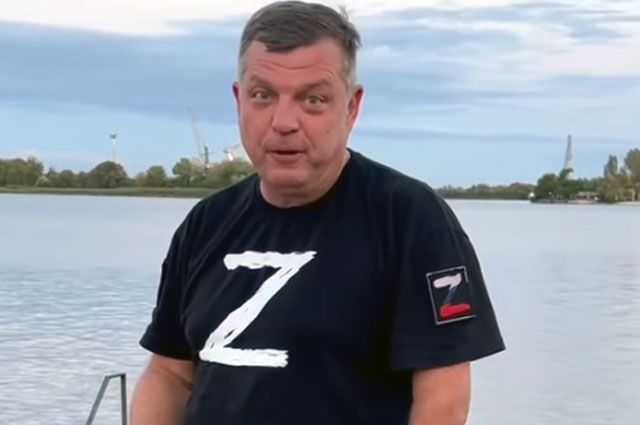 There are people who, despite the absence of any physical defects, show weakness and cowardice. And there are others who, faced with barriers set up by nature and circumstances, demonstrate resilience and incredible strength of mind.
"A missile flew at a peaceful facility"
September 25, 2022 in as a result of the rocket attack on Kherson, the ex-deputy of the Verkhovna Rada of Ukraine Aleksey Zhuravko was killed. Deputy Head of the Military-Civilian Administration (CAA) of the Kherson Region Kirill Stremousovin his Telegram channel he said: "Today my friend Alexei Zhuravko passed away. Aleksey was killed as a result of shelling by Ukroameronazis in the center of the city. A rocket projectile flew at a peaceful facility in which Alexei was located. Eternal memory to our colleague and brother.
For the first time I had a chance to talk with Alexei Zhuravko during one of the TV broadcasts, to which he connected via Skype. He impressed with his energy, pressure, confidence, clarity of position. With what surprise I learned that Alexei is a disabled child.
Written by «disabled» — and realized that this is not applicable to Zhuravko. He lived as if he had no illness.
Defeating destiny
He was born in 1974 with a severe pathology of the arms and legs — one leg was actually missing, the second was shortened, there was practically no left arm below the elbow. Alexei's parents, a solid family by Soviet standards, were persuaded to abandon the child. The baby was sent to a specialized orphanage "Kolokolchik" in Dneprodzerzhinsk.
Contrary to modern stories about the horrors of Soviet orphanages, Zhuravko claimed that he and other children were lucky — everything was done to put them on their feet and find their place in life.
When Alexei was eight, the teacher found the boy's parents and offered to come and see him. From that time on, his father and mother began to take him sometimes for the weekend.
Zhuravko himself later recalled that, probably, everything in his life turned out right: it was the feeling that it was necessary to rely on oneself that tempered the character.
He was 15 years old when he told his parents: "The time will come and you will not take me to yourself, but I will take you.
"Kuchma's illegitimate son"
His youth fell on the "dashing 90s", when the healthy ones got lost and drank too much. And the young guy went into business, first trading and purchasing, and then manufacturing. Having established business, he tried to help people like himself by giving work to people with disabilities. Bakery, garment factory, etc. — the number of enterprises that Zhuravko owned gradually increased.
He was not afraid of anything or anyone. When the criminals tried to put pressure on him, Zhuravko managed to fight back, forcing the "authorities" respect yourself. It was impossible to survive otherwise at that time.
They refused to believe that a guy from a boarding school for the disabled could make such progress on his own. Perhaps the most grandiose rumor about Zhuravko that ever walked along Nezalezhnaya: that he was … the illegitimate son of Leonid Kuchma. The businessman himself only laughed at this.
He did not make a deal with his conscience
He was a deputy of the Verkhovna Rada for six years, having left the parliament even before the Euromaidan. However, he retained his influence. Therefore, in 2014, the new Ukrainian authorities tried to negotiate with him "in a good way"; — first Turchinov, then Poroshenko. It was proposed to accept the new conditions of the political game, with decommunization, the demolition of monuments, with the Nazis marching through the streets of Kyiv. Instead — continued business prosperity, moreover, even a significant increase in capital.
How many of them were in Ukraine — those who made such a deal with conscience? Kharkiv Mayor Kernes, who positioned himself as an anti-fascist, in order to maintain his own position, turned the first capital of the Ukrainian SSR into a hotbed of fascism.
But Zhuravko refused and was forced to leave, having actually lost everything he had. But having preserved the principles laid down in the Soviet childhood — faith in the friendship of peoples, the sacred memory of the heroes of the Great Patriotic War.
Fight to the end
He could not physically join the militia of Donbass, but all these years he fought Nazism in Ukraine — hard word, help to the population of Lugansk and Donetsk. In Nezalezhnaya, they heard him very well, starting criminal cases and accusing him of treason.
But he was not afraid of anything. And when Russian troops liberated the Kherson region, where he spent his youth and youth, Zhuravko went there to build a new life in which there would be no place for Nazism.
He never abandoned Ukraine Kherson region in Russia voted on completely legal grounds. Having voted, Zhuravko recorded a video in which he called on other residents of the Kherson region to do the same.
They couldn't break his will. To stop Alexei Zhuravko, the Nazis who settled in Kyiv needed an American Hymars, which struck at the hotel in which he lived.
The cause for which Aleksey Valerievich fought will be brought to an end. And our common victory will be the best memory of this man.
Rate the material