Absolute Sons of Bitches: Global Fusion Grooves, 1970-1977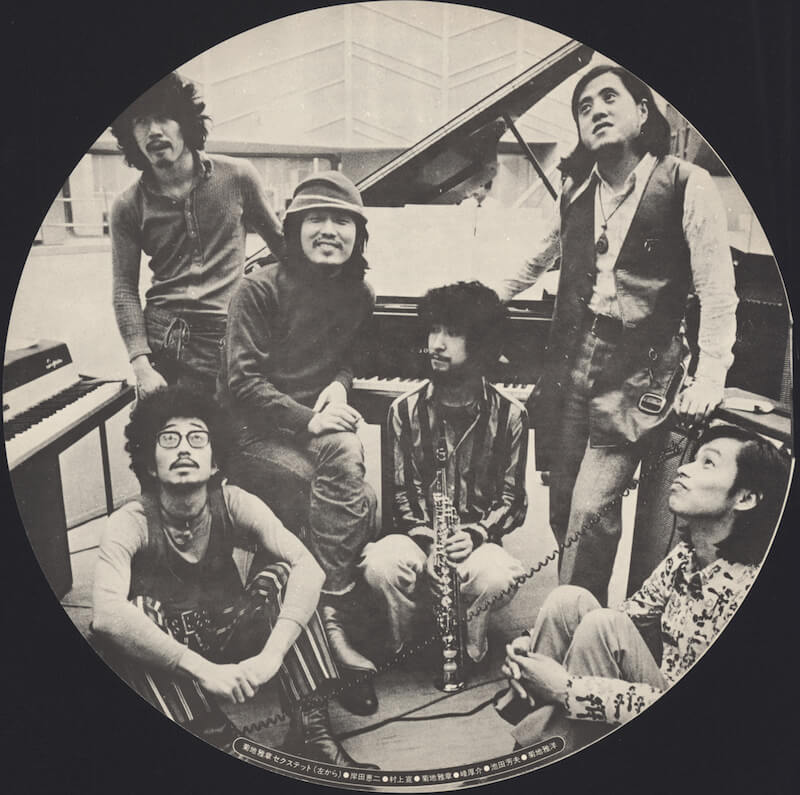 Let's not relitigate the term fusion. We can all agree that its deficiencies are manifold: that jazz has always bonded with other musical forms; that the music the term purports to designate tends to slip, at the margins, into the other genres fused—into straight-up funk or disco or rock or bugalú; or even that there were numerous paths into extended, electrified improvisatory music that never even passed through jazz. These are complaints for another hearing.
For the moment I only want to grouse about the inadequacy of the term to really convey the sonic lineaments of the genre's most celebrated album, Miles Davis's landmark 1970 record Bitches Brew. Bitches Brew is a dark and disorienting biome of a record, with its opposing currents of undulating keyboards and flashes of heat lightning electric guitar. The horns, Miles's trumpet above all, stalk the landscape like birds of prey. The percussion moves the terrain like seismic activity. It is its own complete world. If this is psychedelic music, it is the frightening, revelatory kind of trip, just a shade away from sheer terror. Black tar funk. To call it fusion is almost to disrespect its astonishing wholeness and integrity, as if it could ever be disassembled into its component elements and influences. And yet, for good or ill, Bitches Brew has stamped the genre. The very luminaries of the form trace their lineage back to Miles' electric bands the way the great Olympian gods all spring from the titan Cronos—who, perhaps not unlike Miles, first tried to devour them whole. But precious little of what came after Bitches Brew really sounds anything like it. One goes looking in vain among the certified gold and platinum records of the Mahavishnus and the Head Hunters and the Returns to Forever for that carnival swirl and that chthonic low end.
But it is out there, on just about every continent, if you search. In the interstices of the fusion revolution of the 1970s, with its fulgent synthesizers and tricky time signatures, there were artists summoning the splendid confusion of Miles's dank, hazy masterpiece. I went looking for that sound. I found it—or something like it—in all kinds of places. Among Miles's own contemporaries in American post-bop, tentatively wading into the electric murk. Among younger cats, some of them Davis veterans, trying to chart their way through the aftermath of the revolution. Among those who traveled along the parallel lines of European progressive and avant-garde rock. Even among those who tried to filter the new sounds through their own country's upstart jazz traditions. All of them were conjuring with dark and beautiful forces. It's all out there waiting for us. | b sirota
Download: Absolute Sons of Bitches: Global Fusion Grooves, 1970-1977
Masabumi Kikuchi, "Puzzle Ring" (1970)
Freddie Hubbard, "Spacetrack" (1970)
Nucleus, "Torrid Zone" (1970)
Donald Byrd, "Xibaba" (1970)
Mal Waldron, "The Call" (1971)
Woody Shaw, "Blackstone Legacy" (1971)
Kazumi Watanabe, "Infinite" (1971)
Les McCann "Beaux J. Poo Boo" (1971)
Badfoot Brown And The Bunions Bradford Funeral & Marching Band, "Hybish Shybish"
(1971)
Association P.C. "Totemism" (1972)
Tomasz Stanko Quintet, "Boratka/Flute's Ballad" (1973)
Gary Saracho, "Señor Baker" (1973)
Hiromasa Suzuki, "シルクロード" (1973)
Soft Machine, "Gesolreut" (1973)
Eero Koivistoinen & Co., "3 rd Version" (1973)
Larry Young, "Khalid of Space Part Two" (1973)
Philip Catherine, "Nineteen Seventy Fourths" (1974)
The Bruce Clarke Quintet, "Three Seconds" (1974)
John Lee & Gerry Brown (featuring Chris Hines and Gary Bartz) "Infinite Jones" (1974)
Energit, "Ráno (Part I.)" (1975)
Pat Martino, "Consciousness" (1975)
Rão Kyao, "Malpertius" (1976)
Elvin Jones, "Mini Modes" (1976)
Unobstructed Universe, "Unobstructed Universe Part I" (1976)
Avrey Sharron, "Oasis" (1977)
For heads, by heads. Aquarium Drunkard is powered by our patrons. Keep the servers humming and help us continue doing it by pledging your support via our Patreon page. .