Chuck Berry :: Concerto in B Goode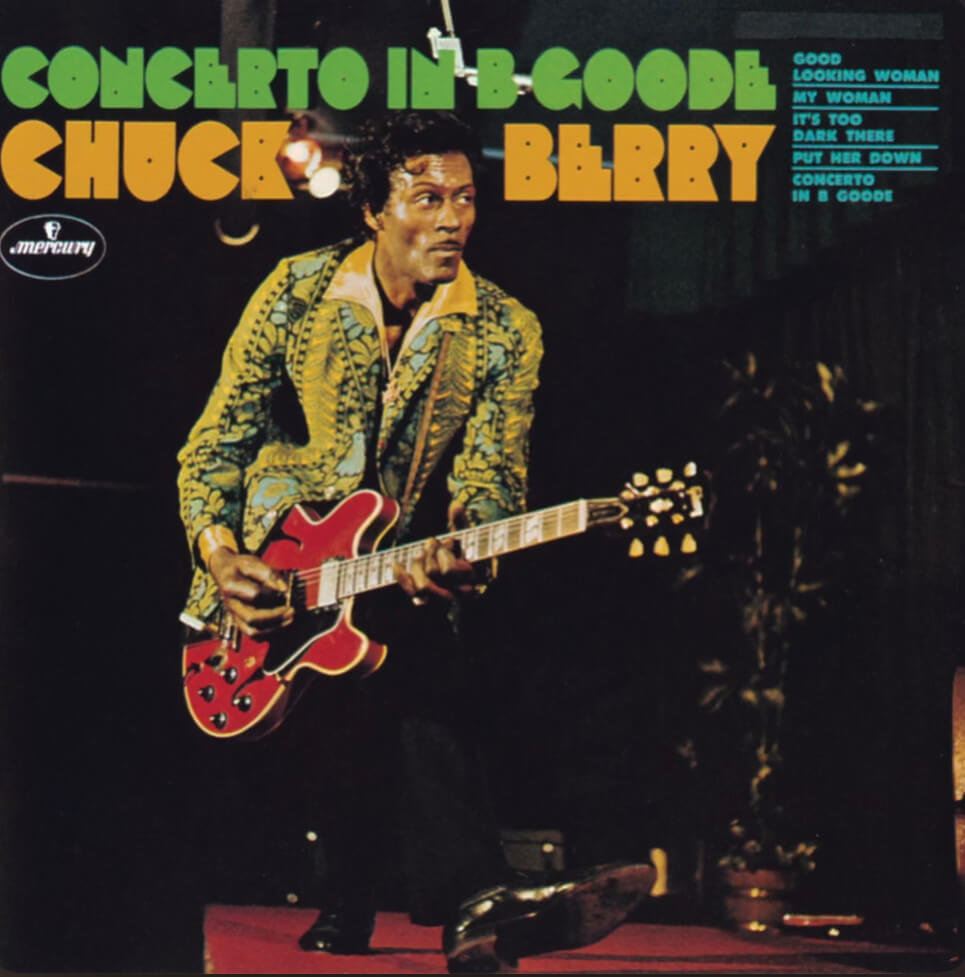 In 1965, Chuck Berry been in and out of prison twice and had adopted an indifferent attitude toward live performance, but he remained a prolific songwriter who could still pack venues. Money was always of prime concern for Berry, so it came as a surprise to no one when Berry left Chess Records for Mercury, a company offering either $60,000 or $150,000—depending who you believe. The Mercury switch did not pan out in terms of record sales, but it pointed a direction toward a new audience, down a road that would lead to the most experimental album of his career, 1969's Concerto In "Be Goode."
His method has become so ingrained in the American collective unconscious that it's easy to forget its ingenuity. Berry harnessed Carl Hogan, T. Bone Walker, and Nat King Cole, and his lyrical concerns addressed high/low brow culture in a casual voice, mimicking formal high society mixed with invented words and street slang. In concert, he improvised with the gospel tradition of audience call and response, and sometimes stretched the limits of guitar improvisation within the rigid modes of early rock 'n' roll structures. As noted by a frustrated Keith Richards in the 1987 documentary Hail! Hail! Rock 'n' Roll, Chuck played in keys more suited to piano and horns (jazz keys) than to guitar, even occasionally changing key mid-song.
Sometime in 1967, Berry was approached by promoter Bill Graham, who gauged the increased interest younger audiences were showing toward 1950s rock. Distrustful of promoters, Berry apparently would not discuss business with Graham over the phone. Instead, he made him fly to St Louis to set up a deal involving a series of gigs in San Francisco with the stipulation that the promoter provide the band, amps, a Cadillac to meet him at the airport, and payment in cash. Regular commutes from St. Louis to San Francisco ensued, lasting several years and over fifty combined shows at Winterland and the FIllmore West. The second series of these shows, with the Steve Miller Band as back up, was recorded for Live At Fillmore Auditorium, and it is here that the type of live improvising Berry would increasingly become famous (and infamous) for becomes apparent.
Berry had been on this ride before. It was the one going cross country in his 1964 hit "Promised Land." He'd been playing gigs in Los Angeles since the '50s. But toward the end of '60s he began spending more time than ever in the Golden State, his inherent self-possessed charisma bizarrely suited to the new developments in rock 'n' roll and the free thinking attitude of San Francisco heads.
Never openly embracing psychedelics, grass was another story. At shows, he was known to partake of joints offered up from the front of the stage and there is no way he could've avoided getting stoned while making 1968's From St. Louie to Frisco, parts of which were recorded with San Antonio country-psych transplants the Sir Douglas Quintet, of whom Chuck wrote in his autobiography, "In unequivocal attention, around a small cloth-covered table where lay a package of neatly placed herbs…were standing the quintet in their glory."
"Movin' out to California/I been livin' in Missouri too long," he sang on From St Louie To Frisco's "Soul Rockin." But the very next release, Concerto In "B. Goode" was recorded in Missouri at Berry's home studio. Billy Peek, a musician who Berry had been mentoring for a few years, played organ, rhythm guitar, and harmonica. What is immediately apparent is the spookiness. Owls alight from a barn in the background of the pleading courtship of "Good Looking Woman." The slow blues of "My Woman" is intercut with distant slide guitar spirits.
But it's on "It's Too Dark In There" where things get strange. Telling the story of a back and forth between a couple alternately fearful of a house party with "40 people dancing under one dim light", someplace "off the freeway", and "a scary movie picture show," it captures the kind of indecision that so often precedes a trip into the unknown. By the time of the echoing solo on "Put Her Down" it is obvious this is not a traditional rock 'n' roll revival. The instrumental title track, taking up all of side two, is where Chuck trades his Cadillac for a spaceship, his Gibson stretching through time/space like a distorted rubber band, beaming riffs back and forth from the Voyager craft, even now hurtling through the void, it's gold record cargo spinning "Johnny Be Goode", searching for life in a cosmic game of call and response.
Dismissed by most critics and writers like unauthorized biographer Bruce Pegg, the album was even disowned by Billy Peek who, according to Pegg, called it "a terrible record." Maybe for some it seemed a step too far towards heresy by an already ensconced rock 'n' roll apostle. Concerto in "B. Goode" is the work of a complicated artist not relying on proven formulae or pre-approved behaviors. It's Chuck Berry calling out to a new audience, maybe a new dimension, and not really caring when or if the response will arrive. | a ganderson
For heads, by heads. Aquarium Drunkard is powered by our patrons. Keep the servers humming and help us continue doing it by pledging your support via our Patreon page. .