Videodrome :: Cisco Pike And The Gargoyles (1972)
(Welcome to Videodrome. A recurring column plumbing the depths of vintage and contemporary cinema – from cult, exploitation, trash and grindhouse to sci-fi, horror, noir, documentary and beyond.)
For director Bill L. Norton, 1972 was a big year. The UCLA graduate had two movies coming out. January would see the release of his feature debut: Cisco Pike, a counterculture drama he co-wrote, starring Kris Kristofferson as a down-on-his-luck musician and ex-con being forced by corrupt cop Gene Hackman to sell a garage full of weed in one weekend. In November, his CBS TV-movie Gargoyles would air, staring Cornel Wild, Jennifer Salt and Scott Glenn.
As one might guess, these two films could not be more different from one another. Cisco Pike is a thoughtful and engaging downer about drug casualties, the Los Angeles music scene, and the corruption of American ideals. Gargoyles, on the other hand, is a throwback to the monster pictures of the 1950s. The mythical, and perhaps misunderstood, monsters hide out in New Mexico's Carlsbad Caverns where they try to get their hands on some ancestral artifacts, and perhaps plot to overthrow the world. Only Cornel Wild (The Naked Prey himself), a professor of demon mythology, and his intrepid daughter, can get to the bottom of it.
If things had gone just a little differently the year before, there's a good chance Norton wouldn't have been involved in Gargoyles. Cisco Pike actually wrapped production in late 1970. Columbia Pictures had greenlit the movie as a way to quickly capitalize on the unexpected success of 1969's Easy Rider. But despite the involvement of Kristofferson (a Columbia recording artist at the time) and ace script doctor Robert Towne, the studio got cold feet when looking at the finished product. Maybe they weren't so sure about the movie star potential of its recording star. After all, this was to be Kristofferson's cinematic debut. His easygoing charisma wasn't a known commodity at the time. Is it possible he's too easygoing? Too much of an unschooled, understated greenhorn in the acting department? Despite ringers like Hackman, who's blustery style sets him apart form the rest of the cast, as well as Karen Black and Harry Dean Stanton, Cisco Pike is without a doubt Kristofferson's movie. There's barely a scene without him. It's true, he isn't the typical Hollywood movie star, nor is he the kind of actor that instantly grabs you by the lapels, like Hackman does. But man oh man, even in his first staring role, his confidence and charisma are captivating. He sure as hell is a movie star.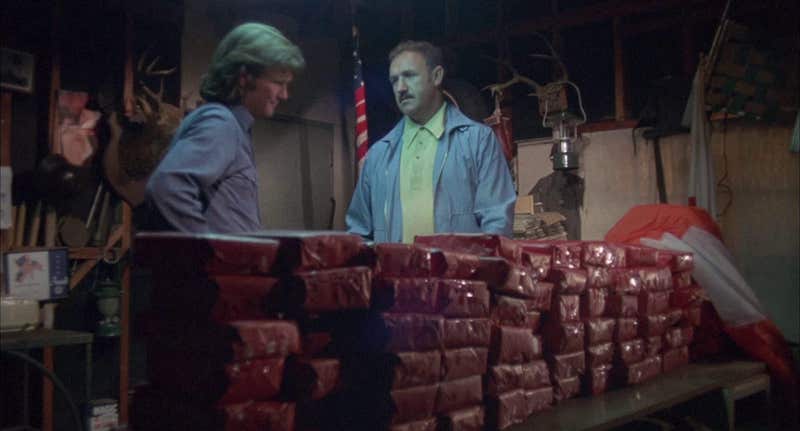 So, maybe it was the subject matter that had the studio worried. Kristofferson is hardly your typical hero, even circa 1971. His character is floundering as both a musician and a drug dealer. Plus, the climax of the movie features a tragic heroin overdose. I won't spoil the rest, save to say that things don't get any rosier from there. Sure, in the wake of Bonnie and Clyde and Easy Rider, a happy ending wasn't a requirement for a hit. But Cisco Pike doesn't have romantic gangsters, exciting bank robberies, motorcycles, or Jack Nicholson's comedic relief. Just a down on his luck musician with a demo reel that fails to impress (AD favorite) Doug Sahm, who casually twists the knife by asking poor, rejected Kristofferson to sell him some weed. You know, some of the good stuff. What few thrills there are in Cisco Pike have a kind of depressing ring to them. But the vibes are strong, man. The vibes are very strong. Despite the improbable set-up, of having a cop force you to sell a mountain of weed in a matter of a few days, everything about the movie feels real. As Cisco makes his rounds, trying to unload this dope, every character, from top to bottom, seems like they were dragged off the streets of West LA.
While Easy Rider may have been an end-of-the-60s landmark, Cisco Pike feels less exploitative and more authentic — if not as impactful. Just like Billy and Captain America, Kristofferson's ex-con musician just wants to be free. He's got some very humble ambitions, but the Man (represented by the sweaty Hackman) just won't let him be. Cisco isn't allowed to go straight. If it's not the cops it's his junky friends (represented by a sleazy Stanton) who keep him rooted in trouble. In one of the most lively sections of the film, Stanton and Kristofferson hook up with two Troubadour groupies played by Viva and Joy Bang. You might remember Viva from our look back at Agnes Varda's Lions Love. She's even better here. She brings some welcome anarchic energy to the film. And I may be misreading things, but Viva seems to be getting a genuine kick out of messing around and making out with Kris Kristofferson at his most boyishly good-looking. Unfortunately, their late night romp doesn't end well, and it precipitates the fatal showdown between Hackman and Kristofferson.
Be it the fatalistic material or the lack of an explosive star performance, Columbia decided to sit on Cisco Pike for the entirety of 1971. So with his debut film languishing in limbo, Norton decided to keep busy by taking on the directorial duties of a low-budget CBS TV-movie entitled Gargoyles. A man's gotta eat, as they say. Now, we won't try to pass off Gargoyles as a lost masterpiece, but it is charmingly weird and entertaining enough — especially during the Halloween season. Plus, like a lot of TV-movies, it has entered the public domain and found a welcome home on YouTube.
Gargoyles is scripted by Elinor and Steven Karpf, whose small handful of credits include another 70s TV-movie hidden gem, Demon Dog, and a Graduate riff staring Michael Douglas called Adam at 6 A.M. The Karpfs have a good grasp on the low-expectations of the TV-movie format circa 1972 and do a good job of surpassing them. For his part, Bill L. Norton tries his best to imbue the movie, and its rural New Mexico setting, with some legitimacy. Given the fact that the gargoyles are simply guys dressed up in rubber suits, this is no small task. But this brings us to another fun fact: Gargoyles marks the humble beginnings of Stan Winston, the makeup effects maestro who would go on to revolutionize the industry in the 1980s with his work on movies like The Thing and Aliens. Hey, his work on Gargoyles may look cheesy now, but it was still good enough to earn him an award for best special effects at the 1973 Emmys.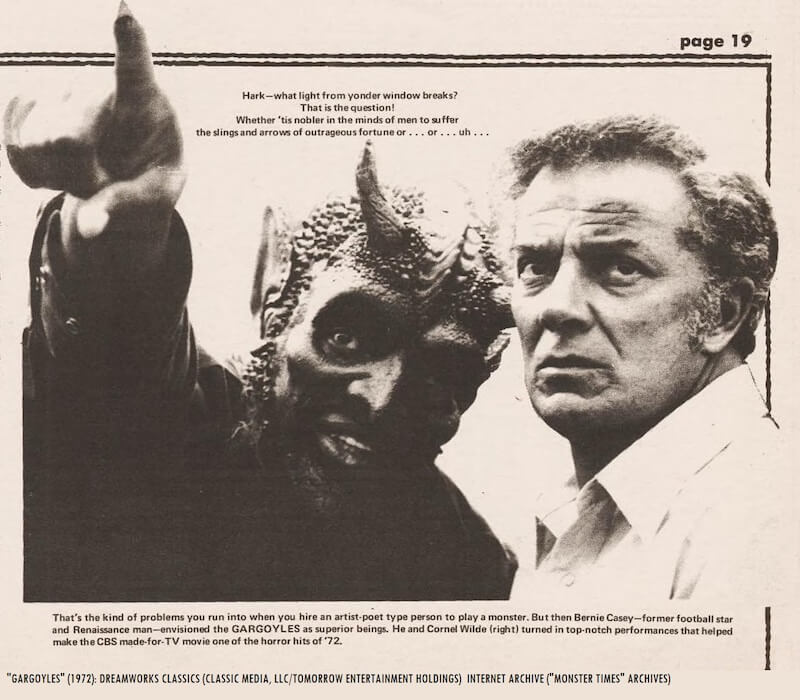 Along with Winston's low-budget creature effects, Norton is aided by a reliable cast anchored by Cornel Wild and Jennifer Salt. Along with the supporting actor presence of a young Scott Glenn as a dirt-bike riding delinquent, Salt (and her collection of groovy halter tops) gives the movie some contemporary flair. But Cornel Wild is the real star here. His resume stretches back into the 1940s. And given that Gargoyles is essentially an homage to 1950s drive-in movies, where scientists were desperately trying to prevent couples in the cars from being attacked by rampaging mutant creatures of one kind or another, he's a perfect fit. He plays the quasi-scientist — in this case a professor who just happens to be an expert on gargoyles.
At the start of the picture, he picks up his daughter (Salt) from the regional airport and takes her to a sketchy collector named Uncle Willie, who specializes in roadside attractions. Of course, the grizzled collector has a genuine gargoyle skeleton, and once the bones are unveiled, the demonoid creatures descend upon the scene and all havoc breaks loose. Playing the old collector is Woody Chambliss, a veteran character actor, and someone that I like to think was specifically hired on by Norton. Chambliss is a real Texan, and though his credits also date back to 1940s westerns, he remained relatively obscure for the majority of his career. But in the early 70s, Chambliss started showing up in weird movies by cult directors like Jim McBride (1971's Glen and Randa) and Robert Downey Sr. (1972's Greaser's Palace). Old Woody outshines everyone here. He's the kind of actor that screams credibility. When Wild doesn't believe that the skeleton is real, both the audience and Salt feel sorry for the old guy. In just a few minutes time, Chambliss provides a level of verisimilitude that Gargoyles never quite manages to build upon, despite the location shooting and the use of local non-actors.
Gargoyles isn't about capturing an authentic depiction of the desolate regions of New Mexico. It's about the creepy monsters that are rapidly hatching out of eggs hidden in the depths of the famous Carlsbad Caverns. These hatching scenes are oddly effective and are surely what earned Winston that Emmy. Also effective is Richard Price's score, which lends the shots of slow-motion rubber suit shenanigans an eerie near-Lynchian vibe. To the filmmakers' credit, the movie even manages to give these gargoyles a bit of complexity. When Salt is kidnapped and taken to their lair, the king gargoyle asks her to read her fathers books aloud, which gives the king some grandiose ideas about getting some revenge on the humans who've kept the gargoyles down all these millennia. But not all the gargoyles are so bloodthirsty. Some are even keen to help Wild put an end to the madness.
As pleasantly old-school as Gargoyles is, it's unmistakably a step down for Norton. To add insult to injury, when Cisco Pike finally was released, it quietly came and went with little notice. But ever since, the cult for Norton's debut has been growing. A re-release in 1975 helped its critical reputation, as did a mention in Danny Perry's Cult Movies book. But it remained elusive and rather obscure until it got its first home video release in 2006. Of course, this slow train of appreciation didn't help Norton's career. He went on to write the script for Sam Peckinpah's Convoy, but that had an even more troubled production than Cisco Pike. He also directed More American Graffiti, which was only more harmful than helpful to everyone involved. And the less said about 1985's Baby: Secret of the Lost Legend the better. Still, Norton did settle into a long television career. It started with the respected Tour of Duty series in the late 80s, and included work on Buffy,Angel, and Law and Order: Criminal Intent. In between, there were many, many more TV-movies.
So, in a way, things went full circle for Bill L. Norton. But I'd still like to know what would have happened if Cisco Pike had gotten the release and the reception it deserved at the time. He clearly had an eye and an ear for what life was like for artists and outcasts as America turned the corner in the 1970s. It's a shame he didn't get to explore that world some more. | s erickson
It's spooky season. Aquarium Drunkard is powered by our patrons. Keep the servers humming and help us continue doing it by pledging your support via our Patreon page.