Videodrome :: Let's Get Lost (1988)
(Welcome to Videodrome. A recurring column plumbing the depths of vintage and contemporary cinema – from cult, exploitation, trash and grindhouse to sci-fi, horror, noir, documentary and beyond.)
When Bruce Weber's documentary Let's Get Lost premiered at the Toronto International Film Festival, its subject was already dead. Four months earlier, on May 13th, 1988, famed jazz musician Chet Baker was found dead on the street below his hotel room in Amsterdam, apparently having fallen from his second-story window. Heroin and cocaine were found in his room; an autopsy report later found both drugs in his system. He was fifty-eight years old. That evening in Paris, all the jazz clubs were silent.
Weber and his editor, Angelo Corrao, were finishing the final cut of Let's Get Lost when they received the news of Baker's death. "We all laid down on the floor and cried," Weber recalled in a 2017 interview with Tim Noakes. "We closed the door to the editing room and didn't talk to each other for two weeks. We thought we would never finish the film; we didn't know how we could. We all had our individual feelings for the film and what we learned from Chet, including how we handle tragedy and dying."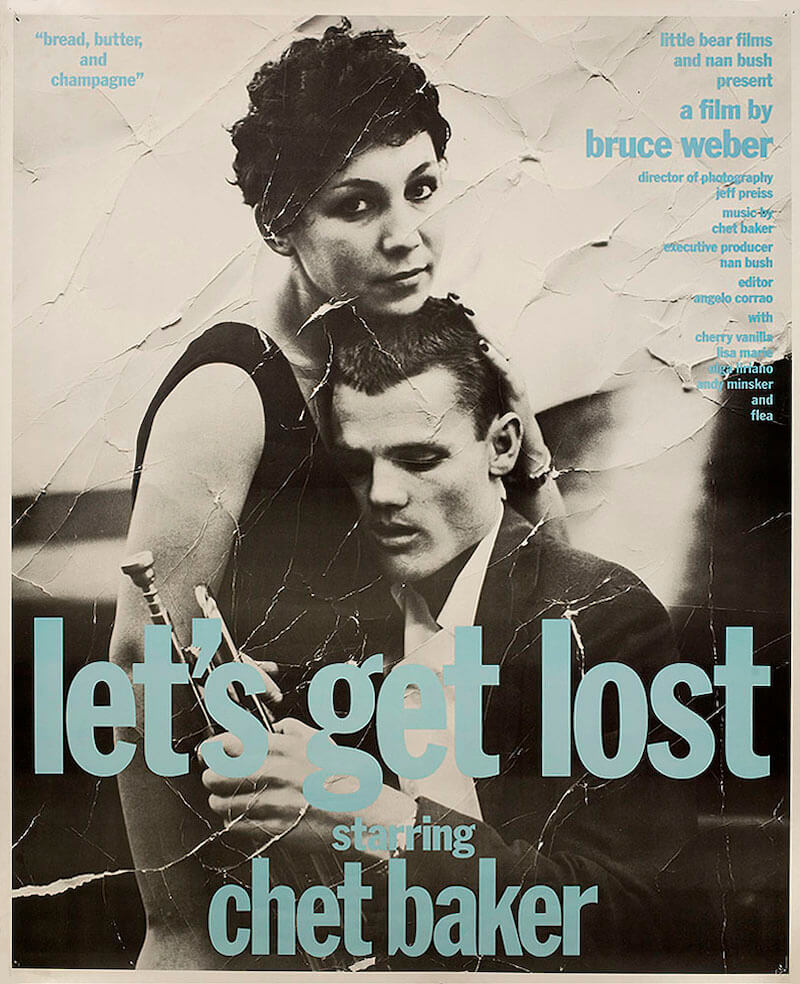 The year earlier, Baker had attended Cannes Film Festival with Weber for the premiere of Broken Nose, Weber's documentary about boxer Andy Minsker. At the time, Weber had already spent over a million dollars self-funding the Baker documentary, which he'd later describe as a "very ad hoc film." Weber brought Baker to France to shoot footage for what would become the finale of Let's Get Lost, aware that his star was out of drugs and in severe withdrawal. In one of their final interviews, Weber confronts the frail Baker on camera: "I know you're without your methadone, Chet. You're feeling sick and desperate… it's so painful to see you like this." In his soft voice, Baker replies, "Well, Bruce, you want me to level with you and tell you the truth. But in doing that, it only creates pain on your part. This is a big drag." The "big drag" that Baker refers to not only stems from his lack of drugs, but having to once again live up to everyone's fanciful expectations. Baker, who was never well-known for his honesty, finally levels with his director in a moment of truth, and his truth isn't charming or attractive. His truth is a far cry from the fabled jazz musician and emblem of hipness that he feels Weber is trying to convey. Baker knows his truth is pain.
After its premiere, Let's Get Lost received international acclaim from critics and audiences. It won the critics prize at the Venice Film Festival and was nominated for an Academy Award for "Best Documentary Feature" in 1989. In his review for The New York Times, Terrance Rafferty wrote, "The enduring fascination of Let's Get Lost is that it's among the few movies that deal with the mysterious, complicated emotional transactions involved in the creation of pop culture – and with the ambiguous process by which performers generate desire." But Weber's documentary wasn't without criticism. Sheila Benson of The LA Times described Let's Get Lost as a surface-level portrayal of a vapid artist, long since faded from the bohemian chicness he facilitated and served as the poster child for: "Let's Get Lost is an adoration of beauty and a horrified fascination with the loss of that beauty. It's a phony Valentine, an exploitation of the ruined old junkie that Baker had become, done with the complete complicity of Baker himself." She wrote of Baker, "He's the perfect idol: whispy, whispery, enigmatic, someone you could project everything onto because there was so little there." While scathing in its condemnation, Benson's review of Let's Get Lost isn't entirely without merit. Weber was best known for his famous Calvin Klein underwear ads, and the remnants of his background in commercial fashion are evident in the stylish fetishism in which he frames the strung-out jazz icon. Throughout the grainy black and white documentary, Weber shows footage of Baker in the backseat of a convertible, sandwiched between Lisa Marie and Cherry Vanilla. Baker smokes cigarettes, smiling upwards at the strobing streetlights and swaying palm trees of Los Angeles, lost in a hazy twilight of some forgotten memory. But the romantic iconography of Chet Baker isn't just a one-dimensional exercise in glamorization. While Benson is apt to point out that Weber's highfalutin lens seeks to poeticize Baker, her assessment misses the inherent loneliness percolating in every frame of his weathered face. This juxtaposition between romance and tragedy, dreams and heartbreak, is the nucleus of Let's Get Lost.
"The strongest thing I remember about Chet was that I was attracted to him photographically, and the camera was too," photographer William Claxton recalls in an interview segment, reflecting on photographing Baker's early recording sessions. "Chet just drew like a magnet – he loved the camera. But it was very unpretentious. He didn't know he was doing it, or at least it seemed that way. I just kept taking more and more pictures of him and forgetting about the rest of the band." In a series of close-ups, the camera pans across Claxton's contact sheets of a young Chet Baker, playing alongside Zoot Sims in the studio and Charlie Parker at The Tiffany's Club. With his suave good looks and smooth demeanor, Baker looks more like a movie star than a jazz musician. Even former girlfriends remember Baker looking "like a Greek God." The magnetism of his physical allure radiates from Claxton's frames, who goes on to say, "Later that night in the darkroom…I was making enlargements, and the image was coming through in the developing tray. I remember having a very strong feeling – for the first time – of what 'photogenic' meant or what 'star quality' meant, or 'charisma.' And that was a new word in the mid-fifties. And I thought, 'God, this guy's got all that stuff.'"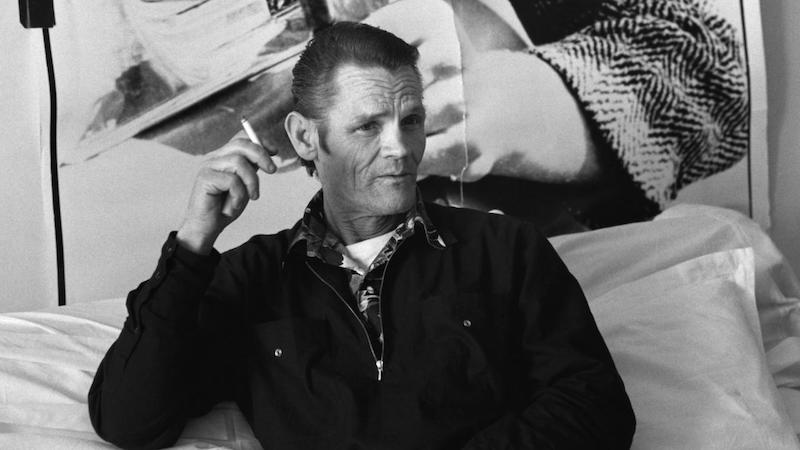 But Let's Get Lost is quick to point out that Baker was more than just a pretty face – he had the talent to back it up. While tracing Baker's trajectory, Dick Bock, founder of Pacific Jazz Records, notes that the trumpet player's talent was undeniable. Moreover, his musical presence was far too significant to be contained to the role of a sideman in Gerry Mulligan's Quartet, which Baker would leave to strike out on his own, becoming the crown jewel of west coast jazz. In an interview with Hersh Hamel, a bass violinist active in the Los Angeles jazz scene since 1949, Baker's described as an outlier to the be-bop movement prevalent at the time. Instead, Baker gravitated towards sentimental ballads and crooner standards such as "Zing! Went The Strings Of My Heart," "Make Believe," and "The Way You Look Tonight." "At the time, there was a lot of talk about 'West Coast Jazz' or 'Cool Jazz,' as some of the New York musicians would call it," Hamel remembers. "They put our style of music down out here in Los Angeles. I really don't think that they understood that musicians like Chet Baker and Art Pepper were products of their environment: the sun, the beach, the warmth, and romanticism. Chet's kind of playing was as indigenous to jazz as The Beach Boys were to rock n roll."
Weber pays homage to Baker's sexy mystique while simultaneously deconstructing it, presenting an unflinching portrait of a musician and celebrity who was also a father, a son, and a husband; a junkie with a trumpet of gold, a lover with a violent temperament, a successful musician and personal failure all rolled up into one. While interviewing those who worked with him, were influenced by him, or had their hearts broken by him, a mosaic of Baker begins to take shape that is both dreamy and crestfallen; a bittersweet soul prone to self-destruct and create beauty, the relationship between these two odd's seemingly mutually exclusive. Unfortunately, the complexities of Baker's public persona and personal affairs aren't helped by the inclusion of Baker himself, who drifts through the documentary in a comatose haze. He's an unreliable narrator who offers little insight into his prolific artistry outside of mumbling half-remembered names and places he once knew.
When asked about an infamous 1966 drug deal gone bad that resulted in Baker getting all of his teeth knocked out (subsequently leading to a three-year-long exodus from music that found Baker relearning the trumpet while working as a gas station attendant), Baker recalls being jumped by a group of "black cats" over a money dispute. But in a later interview with Ruth Young, a jazz singer who fell in love with Baker and lived with him from 1973 to 1982, Baker's recollection is questioned. "In my opinion, the story that he's handed out over that incident is quite false," Young counters. "It's not the truth. It's Chet Baker – in his typical way – gaining sympathy for himself. What really happened was someone kicked his ass for his manipulative ways."
Young isn't the only interviewee in Let's Get Lost who describes Baker as "manipulative." Diane Vavra, another former love interest, recalls the time Baker conned her brother into giving him money for drugs: "Chet cons people. He has this ability to elicit sympathy from people, and it's all a big act. He came to my brother, put his arms around him, and said, 'Oh, I can't make it! I wait for the sun to come up every morning, and it's agonizing. I'm hurting so bad!' And my brother fell for it and gave him fifty dollars so he could go cop. And after that, he realized he was being conned because Chet said, 'How was I? Was I pretty good? I should've been an actor.' You really never know when Chet is being sincere."
Besides former loves and muses, Weber also interviews family members such as Vera Baker, Chet's mother. After reminiscing about her son's early interest in music, Weber asks, "Chet became a famous musician, and he won all these awards, but did he disappoint you as a son?" Vera pauses, eyes scanning the room as if looking for the proper answer to a question she so desperately doesn't want to confront. Then, after a few moments, she quietly replies, "Yes…" before going silent again. She finally looks back at Weber, forcing a smile: "But let's not go there."
In the back half of the documentary, Vera reappears alongside Chet's wife and children in Stillwater, Oklahoma. When asked about special memories of her husband from his glory days, Carol Baker shakes her head and responds, "I don't know who he is. I can't think of anything." Paul, Dean, and Missy Baker reflect on their absentee father's comings and goings with a strained sense of apprehension. Talking to the camera, the three kids offer up quips to a man they barely know: "Stay in touch, don't be such a stranger," "Quit screwing around," and "We'll give
you some financial help, dad," followed by nervous laughter.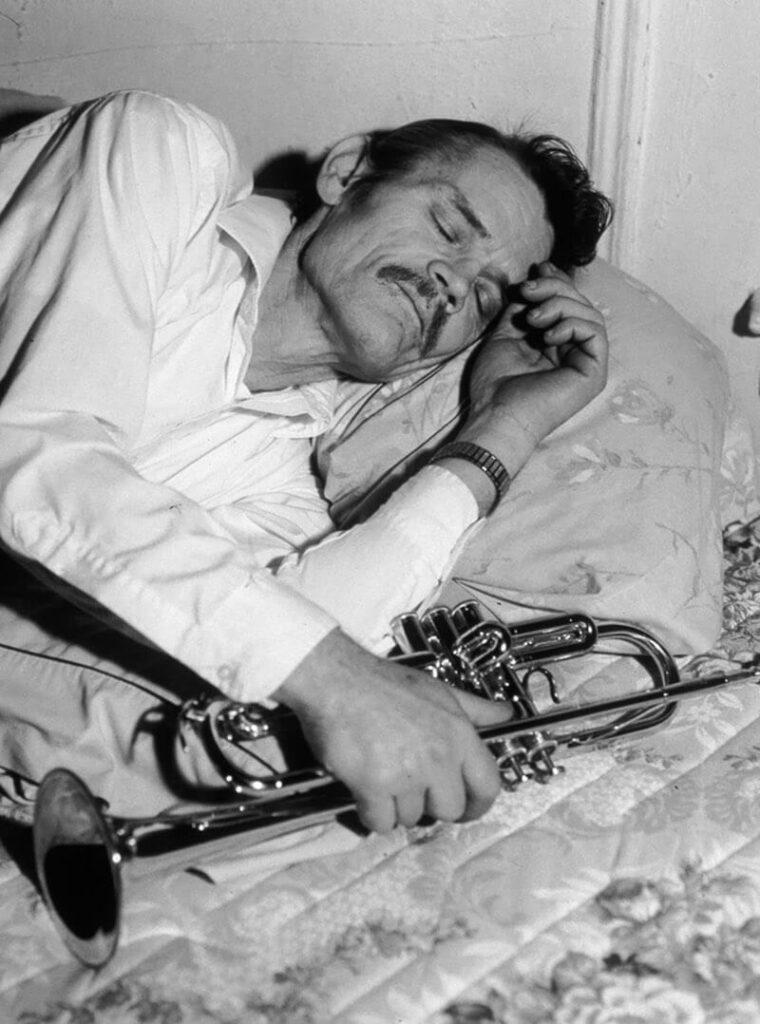 "I think they had a lot of anger and disappointment," Weber would later say about interviewing Baker's children. "When they talk about how he just stopped going to see them – that was very hard. So they had a lot of anger and disappointment. Especially the oldest boy, who had a very serious illness and an operation and Chet was nowhere to be found. He was never meant to be a father. He was always meant to be an uncle to hang out with, have a few beers, share a joint with them or whatever. That's the kind of guy he was. Chet's idea of romance was so unique and sometimes unattainable, and I think that's why so many women and men fell in love with him. But I think as he got older, he really wanted people. But I think he was afraid of that intimacy, so he put all that into his music. His feelings about intimacy went into his music."
In one of the rare moments when Baker discusses being a father, he says, "I just tried to instill in them [my children] that a good way to go in this life is to find something that you really enjoy doing, and then learn to do it better than anybody. And then you won't have any problems." Shortly after this statement, Weber asks, "What's your favorite kind of high?" Baker ponders the question before giving his cryptic response: "The kind that scares other people to death." Then, Weber asks, "What's that?" Baker hesitates, and in his pregnant pause, we hear the potential for everything he's been avoiding talking about in the documentary and everything that we – the audience – have been waiting to hear. This is the chance for Baker to finally confess the elegance of his authorship; to expound upon his timeless music, his feelings towards his estranged family, and his chaotic life. It's the point in most music documentaries when an artist relays the natural high that comes from playing in front of a live audience or connecting with fellow band members in a fleeting moment of pure musical synergy. But instead, Baker says, "Oh, I guess they call it a speedball. It's a mixture of cocaine and heroin."
The romantic myth of the jazz musician – the late-night cocktails and early morning coffee rings, the suit and tie sessions and the overflowing ashtrays, the autumn leaves in Central Park and moonlit waves in Malibu, the eternal coolness and limitless expression of it all – is all wrapped up in Chet Baker. It's not only in his music, but his very essence: the way he would run a comb through his hair, or take a drag from his cigarette. In an interview with actor and screenwriter, Lawrence Trimble, Baker is depicted as the personification of west coast jazz in the 1950s: "The way he played, the way he looked, his name – everything. It all went together. Sometimes you'd see wonderful jazz musicians, but their visual image didn't have much to do with how they played. With Chet, it was all one piece." To confirm Trimble's claim, one needs to look no further than any of the Pacific Jazz record covers featuring the young Chet Baker. With perfectly coiffed hair and steel blue eyes, Baker oozed coolness. He was handsome and gifted, blossoming out of the jazz scene and growing to such a level that Miles Davis told Charlie Parker, "You got to watch out for that white boy." "There was a channel to a kind of danger that he communicated," Trimble goes on to say. "The same way that James Dean did, but on a more underground kind of level."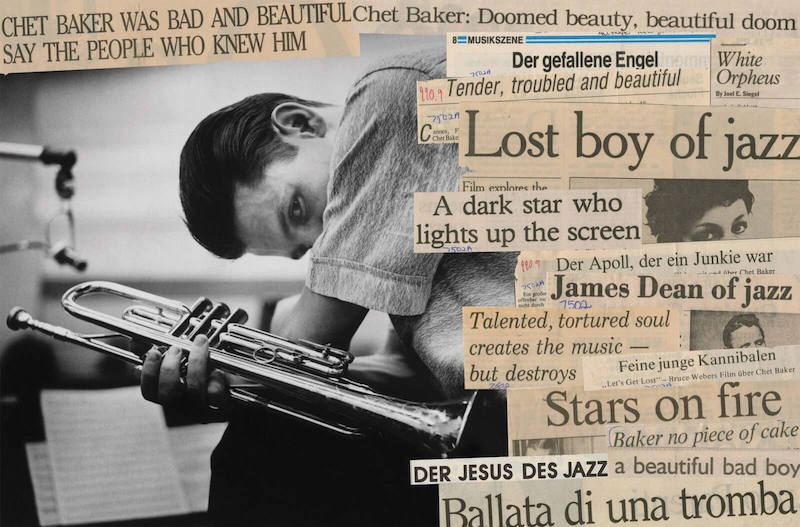 But unlike Dean, who perished in a car wreck at the age of twenty-four – around the same time Chet Baker Sings and Plays was released, cementing Baker as the jazz world's matinee idol and symbol of fifties West Coast cool – Baker went on to have a long and checkered career. Considering his penchant for living fast and dangerously (as well as his love of sports cars), it would have made sense for Baker to suffer a similar fate as Dean, or any number of famous musicians who shared his appetite for drugs and destruction and died young due to overdoses: Janis Joplin, Jimi Hendrix, or Kurt Cobain. Although a jazz musician, Baker's cult of personality would have fit right at home amongst these seminal rock musicians who burned up before they could fade away. By the time Weber's documentary finds Baker, he's fifty-seven years old: a wilted rose with deep creases lining his gaunt face, having lived twice as long as all the aforementioned names. In his older age, Baker should have garnished profound wisdom from his haywire life and career. Unlike other musicians who held Baker's same addictive vices but were dead long before being fully mythologized into the culture zeitgeist, the heavens allowed Baker to live through his own legend with the gift of perspective and hindsight. This is why when Weber asks about his favorite kind of high, Baker's response is so underwhelming – so tragic. "It's a no-win situation with a junkie," Diane Vavra tells Weber. "You really can't rely on Chet, and if you know that, then you can pull through."
And so when someone like Sheila Benson pans Let's Get Lost as "beauty and banality, arm in arm" or calls Baker nothing more than "a ruined, old junkie," she's referring to her preconceived notions of Chet Baker as "the prince of cool" and her expectations for a documentary about the rose-tinted life of one of jazz's most influential forces. In reality, Baker was a hedonist with two devils on both shoulders. He was neurotic, unreliable, and violent. The ugliness of his life was in constant conflict with the sweetness of his music, and the dichotomy between these two
competing forces is what Let's Get Lost illustrates. Rather than characterize Baker as the trumpet-wielding James Dean or a playboy jazz rebel, Weber shows Baker for who he was: a deeply flawed man, with bruises and blemishes and all. The contrast between Baker's personality and musicality makes Weber's profile of Baker that much more heartbreaking. How could someone of so few words be so lyrical and poignant in their musicianship? How could someone who lived so crudely play so gently and sing so sweetly?
Let's Get Lost explores these contradictions inherent in Baker, but it doesn't provide a summation. So it's understandable that a critic like Benson desired more emotional depth from Weber's documentary, which concludes in more loss than celebration. Perhaps if Baker hadn't appeared on camera or had already died before Weber began filming, Benson and others like her would have enjoyed the documentary more. This hypothetical, Baker-less version of Let's Get Lost would have the ability to fully engage in idol worship; to idealize Baker's mythology by embellishing the tangible artifacts from his life while swooning over archival footage without the actual man getting in the way to muck up all the sentimentalizing. "Love and fascination: you said it, baby," Ruth Young remarks of Baker in one of the documentary's most profound exerts. "That's the mystique. But that isn't necessarily real. It takes a long, long time to figure out – to separate one's gift from oneself."
Let's Get Lost is often frustrating to watch if you're a fan of Baker or are even somewhat familiar with his music. You want Chet Baker the man to live up to Chet Baker the legend. You want him to speak up for himself and deliver profound declarations about life and jazz instead of bumbling around, looking for lighters and asking for cigarettes. In his evasiveness, we begin to realize those concealed depths of intellectual artistry may not be there at all. When Baker is asked, "What was the best day of your life?" you'd hope Baker would talk about one of his watershed studio sessions or revered live performances, or provide sagacity into his creative process, or maybe even talk about one of his many weddings or birthdates of his children. But instead, after paging through a book of naked girls on the beach, Baker gazes off into the distance, his sad eyes glossed over, and slurs, "Maybe the day I got my Alfa Romeo SS. That was a nice day. I had a lot of fun that day. It was only thirteen hundred CC, but it would run long at one hundred and twenty-five miles an hour. It was so low off the ground that it made it seem like you were really flying – a nice car." | e hehr
Aquarium Drunkard is powered by our patrons. Keep the servers humming and help us continue doing it by pledging your support via our Patreon page. For heads, by heads.