Mythic Sunship :: Light/Flux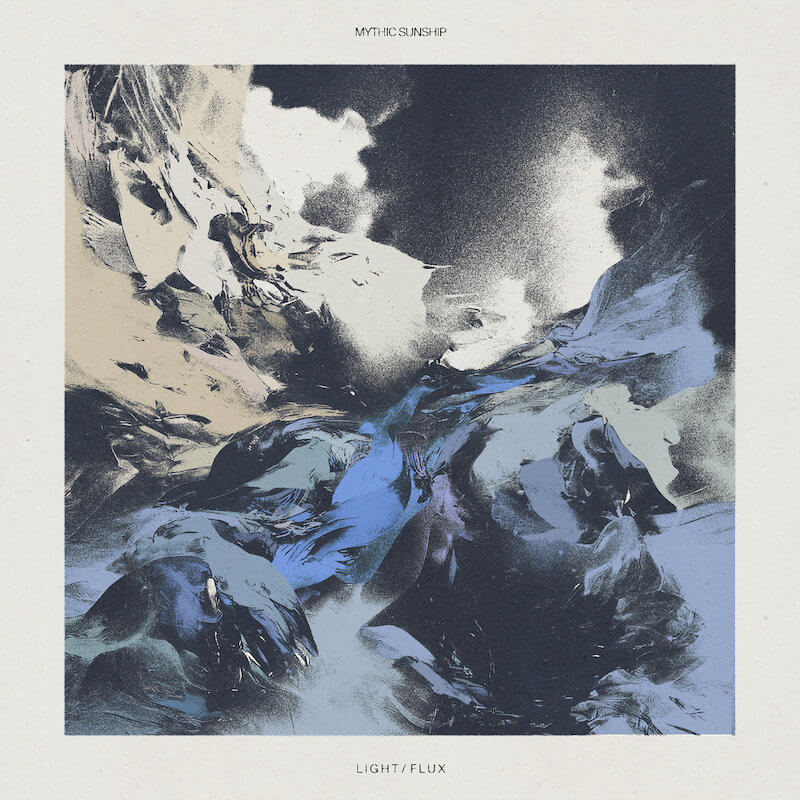 When asked how the original Copenhagen garage trio Mythic Sunship brought bassist Rasmus Cleve Christensen into the group around 2015, drummer Frederik Denning confesses that they knew Christensen through a "Magic the Gathering and jazz" group. This, frankly, tells you much of what you need to know about the Sunship. And indeed, one can believe the rumors that the band's name comprises a hip out-jazz portmanteau of Sun Ra's Of Mythic Worlds and John Coltrane's Sun Ship, or one can surmise likelier and altogether dorkier origins in imaginations stoked by role-playing games and pulp fantasy paperbacks. This is no slight. Some of the most colossal avant-rock ensembles—Hawkwind, Magma, Painkiller—were comprised of massive dweebs, who approached their sonic assault with a nerdy enthusiasm, bookworm encyclopedism and no small degree of whimsy. It didn't make them any less brutal. It takes awe and wonder to make huge music.
And Mythic Sunship certainly do that. Their early records, the so-called "anaconda trilogy" of Ouroboros (2016), Land Between Rivers (2017) and Upheaval (2018), were slabs of pulsating, riff-heavy improvisational space rock. They reliably rattled bongs and heads, even when they weren't always breaking new musical ground. But Mythic Sunship became an altogether more compelling proposition with the introduction of saxophonist Søren Skov on 2018's aptly titled Another Shape of Psychedelic Music. Suddenly the free jazz allusions in their moniker seemed
plausible, as the now quintet's jams took on the massed intensity of Coltrane's Ascension. Another Shape is a searing album, which marries the Sunship's warp-drive riffage to the smoking German jazz-rock tradition of Xhol and Kollektiv, as well as the droning Scandinavian ceremonials of the Pärson Sound.
The outstanding new Light/Flux reveals a band that is very much still evolving. There is certainly a commendable creative restlessness on display here, but I wouldn't be surprised if there was also some conscious effort not to resemble any of the bands that heretofore served as touchstones in reviews of their music. Light/Flux doesn't really sound much like Hawkwind or krautrock jazz or Scandinavian psychedelia at all. It is a lower, darker affair, steeped in American slowcore and southern California desert rock. The album opener "Aurora" comes in with a somber jangle like a Bedhead record, simmering beneath Skov's languid tenor. And it stays at this low-boil throughout the haunted "Blood Moon." Things don't really take off until well into the pummeling third track, "Equinox;" and when they do, it is not to launch into the stellar regions. Instead, it is circular motorcycle riffs ripping like the new wave of British heavy metal. The ten-minute doomsday waltz, "Decomposition" may be the album standout, ratcheting up in intensity from solemn funeral procession to deranged death march. The album goes out on the windswept stoner rock of "First Frost."
Light/Flux is apparently refers to the way the light changes with the seasons, as captured in the song titles and the shadowed blues and greys of Tobias Holmbeck's gorgeous cover art. And the record will sound great against the unfolding winter. It seems like a good time to exchange exploding stars for pale light in an overcast sky. | b sirota
Only the good shit. Aquarium Drunkard is powered by our patrons. Keep the servers humming and help us continue doing it by pledging your support via our Patreon page.