Automne Six :: S/T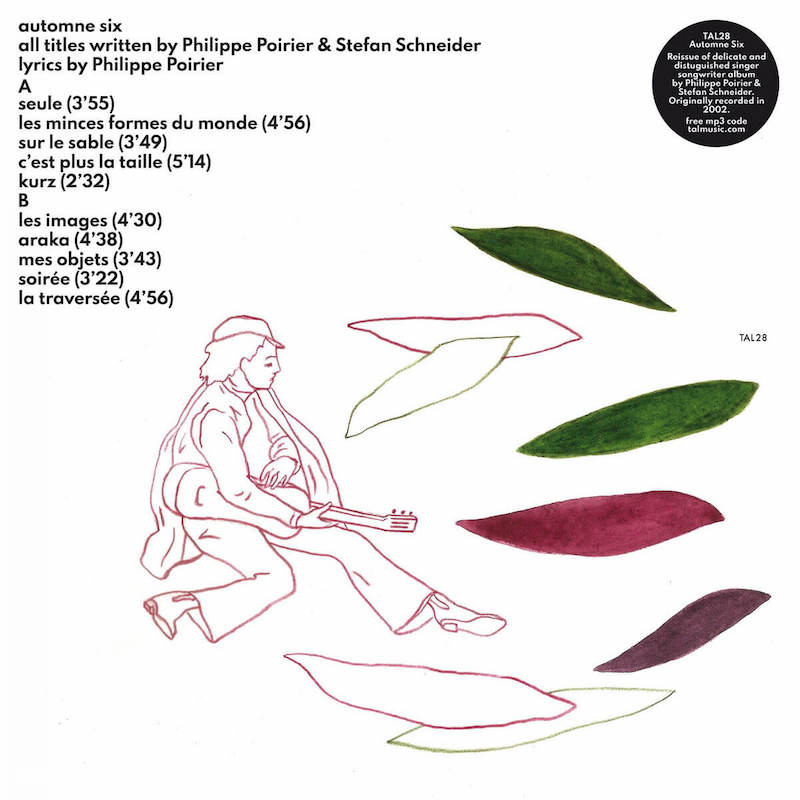 Automne Six was the one-time collaboration of Phillippe Poirier and Stefan Schneider. Poirier, most notably in Kat Onoma, and Schneider, a member of To Rococo Rot, have churned out intriguing post-punk and avant-pop music under various guises since the mid-eighties.
Twenty years after its initial release, Schneider's label TAL has reissued the duo's sole album on vinyl. Entitled Automne Six, the ten track record is a pop-leaning distillation of Poirier and Schneider's various projects, flirting with fringe electronica and ensemble dynamics. In tandem, Poirier adds steady vocals over his smooth and carefully crafted chord changes, while Schneider guides each of the tracks with animated electronics teeming with field recordings and carefully calibrated synth tones.
Consisting of a simmering two-chord projection with slight tension, third track "Sur le sable" is backed by a light, jazzy drum beat, a gliding synth bass tone, delicate horns, and scattered, ethereal electronics, as Poirier's diplomatic vocals sit atop in contrast and control. The reserved electronic tension pours into the next track, "C'est plus la taille", as Poirier's guitar, soaked in soft distortion with tremelo, trades turns wrapping itself in the sound approaching a pliable ensemble sound reminiscent of Tortoise's "TNT" or even Radiohead's "I Might Be Wrong" or "Dollars and Cents".
The whole of Automne Six is an imaginative drift, one free of purpose and reveling in the logics avant-pop can follow. Each track offers an exercise in constrained lyricism, trusting intuitive intention yet sensitive and willing to submit to subtle movements. The beauty is in watching these two use those parameters to create an oddly attractive set of songs. | i forsythe
For Heads, by heads. Aquarium Drunkard is powered by its patrons. Keep the servers humming and help us continue doing it by pledging your support via our Patreon page.