Videodrome :: Less Than Zero (1987)
(Welcome to Videodrome. A recurring column plumbing the depths of vintage and contemporary cinema – from cult, exploitation, trash and grindhouse to sci-fi, horror, noir, documentary and beyond.)
During the holiday season, Los Angeles averages high temperatures in the seventies. The skies are blue, the sun is bright, and the palm trees sway in the Santa Ana winds. The visual hallmarks associated with Christmastime – falling snowflakes, frosted windowpanes, billowing chimneys, icicles dangling from porches, snowmen adorning front yards – are a far cry from the crashing waves on the shores of Malibu and the flickering heat lamps on patios in West Hollywood. The infamous traffic dissipates, and the canyons go dark as millions of transplants flock to LAX, leaving their adopted city behind to make the annual pilgrimage back to families and childhood haunts. By Christmas Day, Los Angeles is a ghost town.
It's not to say that Los Angeles isn't festive during the holiday season. Twinkling lights illuminate Rodeo Drive, wreathes and tinsel decorate Westwood storefronts, and hip third-wave coffee shops in Silverlake – packed with unemployed screenwriters anxiously waiting to "circle back around" to executives and reps after the holidays as they sip iced coffee in the sunshine – are garnished with nutcracker trinkets and chalkboard illustrations of dancing candy-canes. But on a geographical and societal level, Los Angeles doesn't lend itself to the plangency of Christmas the same way cities such as New York City or Chicago do. Ironically, the same Hollywood that created the visual iconography used to market Christmas to the masses via It's A Wonderful Life (1946) and White Christmas (1954) doesn't reflect its own yuletide atmosphere. Come December 25th, the vacancy of the city and tepid climate can be inherently un-Christmasy.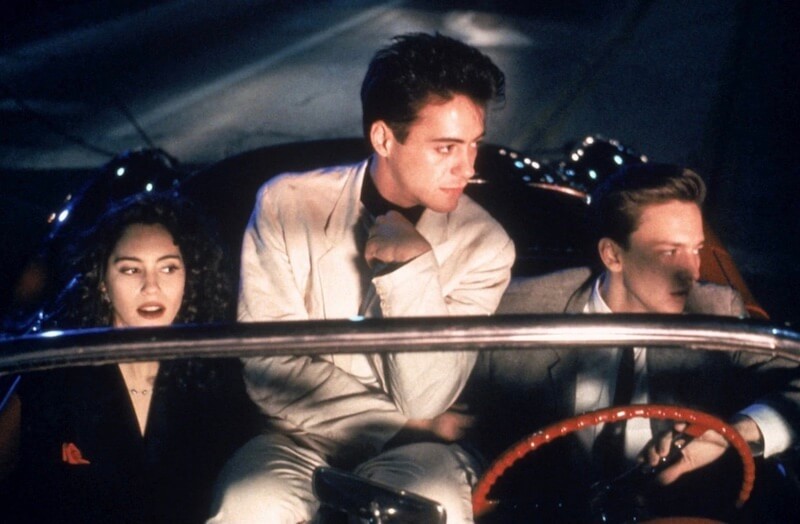 It's easy to forget that Less Than Zero (1987) occurs during Christmas. The film follows college-freshman Clay (Andrew McCarthy) returning home to Los Angeles for the holiday break and rekindling his relationships with model ex-girlfriend, Blair (Jami Gertz), and junkie best friend, Julian (Robert Downey Jr.). Throughout the film, Christmas trees lurk in the background of every penthouse and mansion, but they're always fake and plastic, positioned in empty corners. There are Christmas carols, but they're sung by trust-fund kids hanging off the side of their parents' convertibles, slurring out lyrics to the empty streets of Beverly Hills. There are holiday parties, but the invitations are crude ("Let's fuck Christmas together") and filled with models dancing to Poison and Slayer. There are exchanges of gifts, but they're mostly limited to those that can be smoked or snorted ("Looks like you could use some Christmas cheer!" Rip tells Clay, handing him a vile of cocaine). Rather than come together for the holidays, the wealthy families that the main characters belong to come apart. Because these subversions of holiday tropes negate the cozy cheer commonly associated with Christmas, Less Than Zero is remembered as a coming-of-age drama rather than a heartwarming holiday film.
Released in advance of the holiday season on November 6th, 1987, Less Than Zero received mixed reviews from critics and audiences. While its initial reception was lukewarm, certain aspects of the film received unanimous praise, specifically Robert Downey Jr.'s portrayal of Julian. "Mr. Downey gives a performance that is desperately moving, with the kind of emotion that comes as a real surprise in these surroundings," Janet Maslin wrote in her review for The New York Times. In his four-star review for The Chicago Sun-Times, Roger Ebert singled out Downey's performance as the film's highlight: "Robert Downey, Jr's acting here is so real, so subtle and so observant that it's scary…the whole movie looks brilliantly superficial, and so Downey's predicament is all the more poignant: he is surrounded by all of this, he is in it and of it, and yet he cannot have it."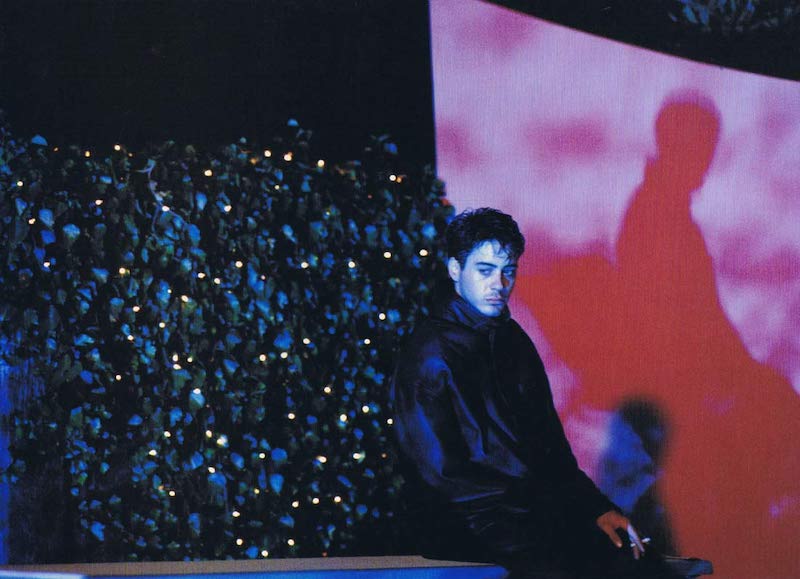 Besides lying, cheating, and stealing from those closest to him, Julian spends most of the film strung out on drugs and asking people for money. Yet Downey's depiction of Julian is deeply sincere, evoking a frightened and confused child rather than a heartless drug addict, eliciting far greater sympathy than McCarthy's Clay or Gertz's Blair. By the midway point, Less Than Zero becomes Julian's film, and Downey steals every scene. Despite his corroded moral compass, Julian manages to become the film's most likable character in Downey's hands. Downey would later describe the film as his version of "the ghost of Christmas future," acknowledging that the character of Julian served as a omen for the drug problems he would face following the film's release.
But outside of the generally well-regarded performances, Less Than Zero received less than stellar reviews regarding Marek Kanievska's direction and Harley Peyton's screenplay, prompting critics such as David Ansen of Newsweek to refer to the film as "Antonioni making a high-school public-service movie." Part of Less Than Zero's fatal flaw is that it's an adaptation of Bret Easton Ellis's debut novel, which Eve Babitz famously called "the novel that your mother warned you about." Before its publication in June of 1985, producer Marvin Worth optioned the book for 20th Century Fox. It became a best-seller, prompting the vice presidents of production (Scott Rudin and Larry Mark) to figure out a way to turn the commercially successful novel into a commercially successful film.
Besides the broad strokes, the film adaptation bears little resemblance to Ellis's book. For fans of the novel, it's difficult to view the film as little more than a misfire; perhaps something that should have never been adapted to begin with. The novel has an aimless drift, following Clay through a relentless barrage of lavish parties, rock clubs, and chic bars across Los Angeles. The candid portrait of Los Angeles nightlife and Gen X culture is chilling in Ellis's minimalistic, surface-level prose. Clay's icy detachment to his environment and the vapid characters who populate it supersedes the novel's overall story, resulting in a disturbing documentation of the brazen excess and entropy of a lost generation, numbed by drugs, sex, and bottomless bank accounts. The success of the novel that 20th Century Fox sought to turn into a film isn't in plot or character but in Ellis's authorship and stark writing style – a difficult thing to translate to the screen.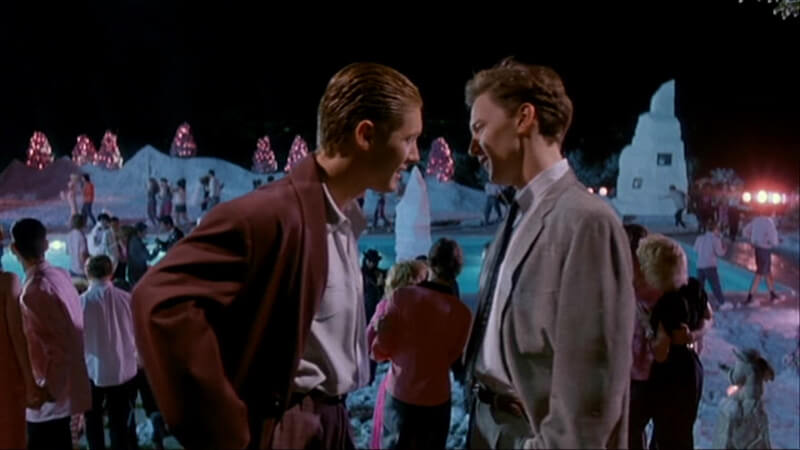 Due to its meandering form and callous, bisexual coke-head protagonist, it's easy to see why modifying Ellis's bleak novel into a mainstream studio film circa the Reagan-era would've been futile from the get-go. There are no redeemable characters, and Clay is a passive protagonist adrift in a story unanchored by traditional plot mechanics. To turn Less Than Zero into a commercial film that adheres to a three-act structure and alters Clay's experience into a hero's journey is ultimately a disservice and complete misinterpretation of Ellis's source material. But filming it as a straight adaptation – void of Ellis's steely writing – would result in a film that few multiplex audiences would bother to sit through.
In a parallel universe, perhaps there's an adaptation of Less Than Zero directed by Gus Van Sant and released as an independent film in the early 2000s. One could hypothesize that this speculative version of Less Than Zero would come closer to capturing Ellis's frigid tone and the novel's enduring nihilism. But the film version we have was released by a studio in 1987; written by a screenwriter who went through three drafts of executive notes demanding to make "Clay less amoral;" directed by a director hired to make "the material less edgy;" intended for mass audiences and box office numbers (of which it opened at the No. 4 position behind Fatal Attraction). The studio hired Andrew McCarthy to play Clay in an effort to attract "teenage girl fans without alienating an older audience," and the film was interminably test-screened to an audience between the ages of fifteen and twenty-four for mass-market appeal.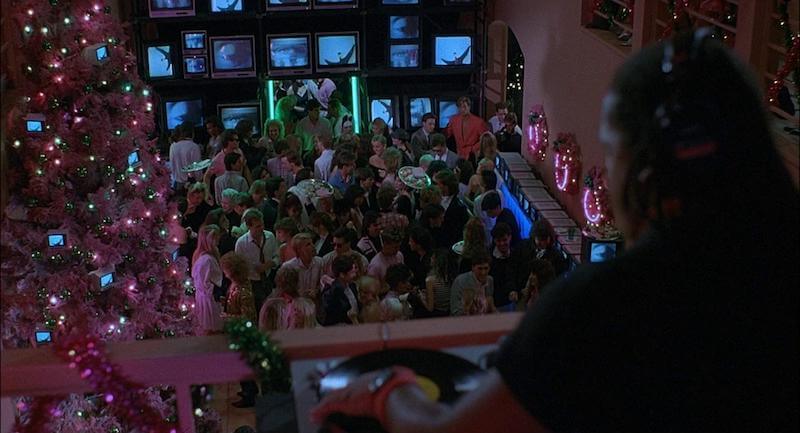 While the film has recently been out of circulation, the novel still adorns the shelves of bookstores far and wide. Its examination of superficiality for the MTV generation holds the same kind of literary pedigree as other classic American novels such as Catcher In The Rye. It's a rite of passage, a book that seemingly everyone reads (or stops reading) at some point in their life, whereas the film has a far narrower audience. During the Manic Movie Monday podcast episode on Less Than Zero, host Erin Gilmer referred to the film as "near perfect as long as you disregard the source material." Whether or not you agree with this assessment, there are two ways to evaluate Less Than Zero: a standalone film that functions on its own cinematic merits, or the adaptation of Bret Easton Ellis's novel. Like most pieces of media that live in various forms, the appreciation or dissatisfaction largely stems from which one was encountered first, and the personal sentimentality placed upon that experience. But there's a third way to approach Less Than Zero, and that is as a holiday film.
Given the narrative liberties the film takes from the novel, it's easy to imagine the studio deciding to change the time of year from Clay's winter break to summer break. Not only would this probably be easier to shoot production-wise, but the cornerstone aesthetics of Los Angeles could be fully glorified: bikinis on the beach in the sweltering sun, warm nights spent poolside at hotel bars, sherbet sunrises and sunsets over mansions up in the hills. The basic functionality of a story involving a college student returning home and reconnecting with his friends could happen regardless of if it's Christmas or not. Because the holiday season in Los Angeles is one of the few things the film preserves from the novel, it's worth considering why.
The film's credit sequence finds Clay arriving back in Los Angeles as The Bangles' cover of "Hazy Shade Of Winter" plays. Outside of capturing the time of year, the song is a perfect distillation of themes that permeate both the novel and film, opening with the lyrics, "Time, time, time/See what's become of me/Time, time, time/See what's become of me/When I looked around for my possibilities." Clay is returning home to a place that has changed without him, grasping at the leftover residue of old relationships and familiar locations that no longer feel the same. He's searching for people and places that now belong to memories during a time of year ripe with nostalgia.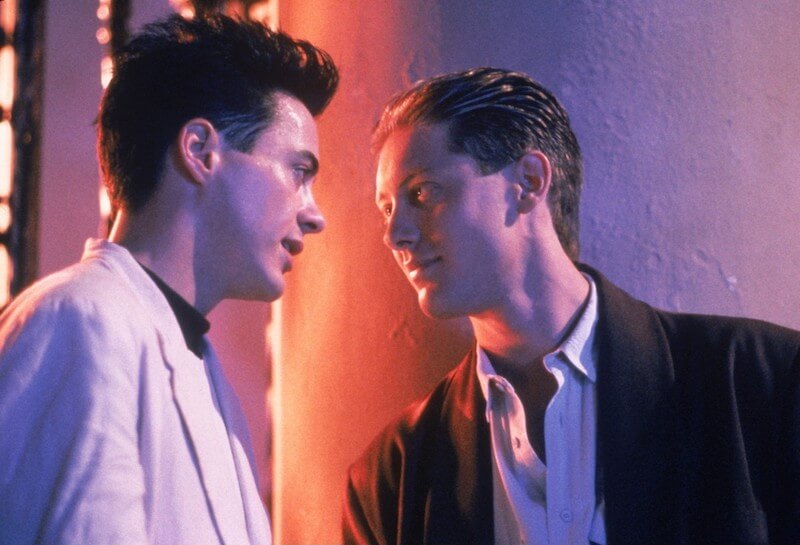 In one scene, Clay finds Julian asleep on a park bench after an all-night bender and wakes him up. The two friends reminisce about their youth, and Julian confesses to Clay that he's returned to their old high school: "I just dropped by, took a nostalgic walk around…it was weird. All the little kids that used to follow us around had grown up, and it wasn't like it was when we were there." In the novel and film, the characters of Less Than Zero look to recapture a feeling from their past. Clay, Julian, and Blair aren't kids anymore, and the friendship they once shared – the proverbial "springtime of their lives" to quote "Hazy Shade Of Winter" – has faded away without them.
In "I'll Be Home For Christmas," there's a bittersweet lyrical refrain from the displaced narrator: "I'll be home for Christmas/If only in my dreams…" It begs the question, is Christmas simply a time of year? Or is Christmas an intangible feeling, always just out of reach from reality, accessible only in dreams and memories of once what was. Towards the end of Less Than Zero, Blair encounters a group of acquaintances at a holiday party in Palm Springs. As they complain about the lackluster attendees, old home movies of Clay, Blair, and Julian from better times play on a series of televisions. "The party was better last year," one of the girls says. "No, it wasn't," Blair responds. "I think it was exactly the same."
Whether it's Scrooge returning to his past in A Christmas Carol or Neal Page returning to his family for Thanksgiving in Planes, Trains, and Automobiles (1987), holiday films often follow characters returning to people and places they once knew and examining the potential for rejuvenation in the face of change. The concept of "returning home" eventually leads to the more prominent themes of holiday films: redemption and transformation. When Clay returns to Los Angeles in Less Than Zero, his relationship with his home and friends is no longer the same. Despite Clay, Julian, and Blair's ability to afford anything they want – cars, clothes, drugs, sex – they can't buy back time. It has moved on without them, and they begin to realize how far they've strayed from the innocence of their youth. But because of this realization, Clay is able to acknowledge how much his friendships means to him, and that redemption is possible for Julian. This eventually leads to Clay rescuing Julian from an ill-fated stint of prostitution to pay off a debt to drug dealer/pimp, Rip (played with the perfect amount of slick sleaze by James Spader). Clay also reconnects with Blair, who agrees to leave Los Angeles and travel back east with him (the book doesn't conclude quite the same way).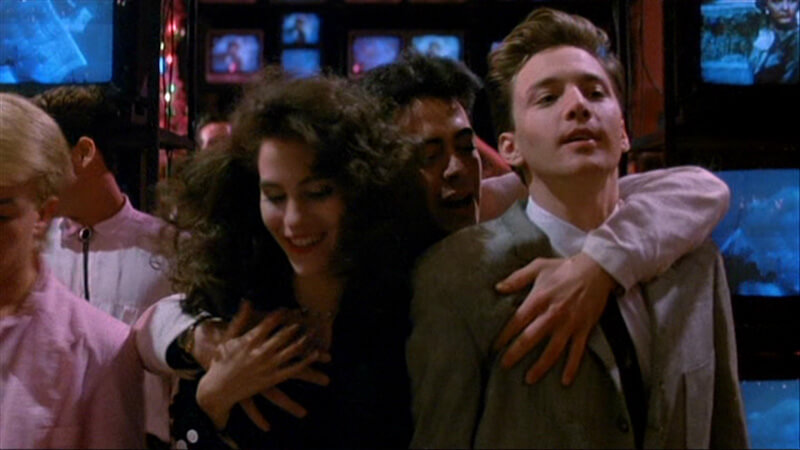 Less Than Zero may not look like a holiday film due to its location, but the more pertinent question is whether it feels like a holiday film. After all, a film set during the holiday season does not necessarily make it a holiday film, just as the sight of snowflakes falling onto hushed avenues and chestnuts roasting by an open fire doesn't necessarily define Christmastime. The visual pageantry we associate with Christmas is secondary to the emotional resonance of the holiday season, and the classification of a holiday film needs both to function. Even though Less Than Zero preoccupies itself with the delineation of wayward youth culture circa the mid-eighties, it's nonetheless a story about returning home for Christmas that leads to the subsequent exploration of redemption and transformation. The case can be made that Less Than Zero adheres to the connective thematic tissue – the feeling – of a holiday film, even if it doesn't traditionally look like one (hey, there are at least some Christmas trees in the background). As a cinematic thought experiment, let's imagine yet another parallel universe version of Less Than Zero. In this one, everything about the story and characters is the same – as well as the film's cast and crew – but set on the east coast rather than the west coast. Instead of coming home to Los Angeles, Clay returns to the snowy streets of some affluent eastern community. Rather than visiting Julian at Leo Carillo State Beach, Clay finds him on the polar shores of the Hamptons. In place of Clay and Blair driving through tunnels on Kanan Dume Road in Malibu, they drive through a blizzard in Montauk. The barren branches of white pines replace the swaying palm trees, and the pastel neon lights of Hollywood nightclubs become the dim amber glow of Manhattan cocktail lounges. The thematic reverberation of Less Than Zero stays the same, but the setting changes to align with the Christmas season's aesthetic iconography. Does then Less Than Zero indisputably qualify as a holiday film?
Holiday film or not, Bret Easton Ellis hated Less Than Zero when it was released, rightfully pointing out that the film bore little resemblance to his novel. But in later years, Ellis would accept the film on its own terms. In a 2005 interview, Ellis said the film captured "a certain youth culture during that decade that no other movie caught." Later, in a 2010 interview with Movieline, Ellis said, "I think that movie is gorgeous, and the performances that I thought were shaky seem much better now. Jami Gertz seems much better to me now than she did twenty years ago. It's something I can watch."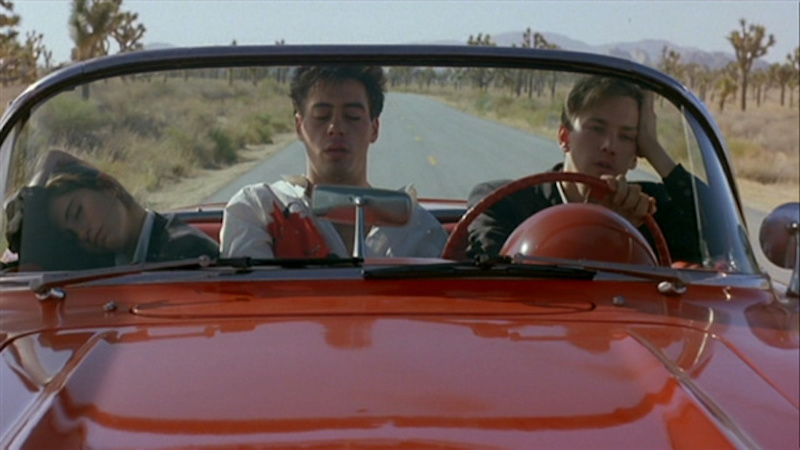 If there is something that both the novel and film succeed in capturing, it's Los Angeles during the 1980s. In a piece for Departures published in November of 2022, over thirty-five years after Less Than Zero's publication and film release, Ellis reflected on his relationship with Los Angeles by writing, "I was haunted by the ease with which places disappeared and how this is endemic to the geography of Los Angeles. There seems to be so little permanence because of the endless, wide-open spaciousness of the place and its breathtaking sprawl, which lends the city an ability to effortlessly reinvent itself, over and over, tearing itself down and rebuilding constantly. This is part of the apocalyptic aura of LA: destruction seems designed into the fabric of the city…these familiar places from our youth are on one level seemingly mundane, but in memory are endlessly mythical – as is everything when looking back at one's life."
The Los Angeles in Less Than Zero has long since disappeared. But while it may not look the same, the feeling of Los Angeles depicted in Less Than Zero can still be found throughout the city. It's in the garish lights off Sunset Strip. It's in the way someone will look past your shoulder at a bar to see who else is in the room and who else is looking at them. It's in the after-parties where pretty strangers name-drop actors and musicians between bumps of coke and cigarette drags. It's in the smell of chlorine wafting from pools in the Hollywood hills, positioned above an infinite sprawl of blinking lights from lonely dreamers and lost romantics. It's behind the drawn shades of a hotel suite and the tinted windows of a private car. It's in the endless vanity, nauseating nepotism, and eternal posturing and narcissism of it all. "You don't look happy," Clay tells Blair at a party. "But do I look good?" Blair asks.
The holiday season is an aesthetic, but more than that, it's a feeling. And more than the aesthetic, we respond to the feeling of Christmas. Of course, the same could be said for a place like Los Angeles, which changes seasons with the passing billboards, completely revamping its visual identity every few years. But beneath its ever-changing decorative facades, Los Angeles has a feeling: a glamorous magnetic force that pulls starry eyes into its orbit, however disingenuous it may be. Perhaps this is why both the novel and film versions of Less Than Zero take place in Los Angeles during the holidays, following characters looking for a feeling that may or may not have ever existed outside of dreams and memories, in a place that has never really even existed to begin with. | e hehr
'Tis the season. Aquarium Drunkard is powered by our patrons. Keep the servers humming and help us continue doing it by pledging your support via our Patreon page. For heads, by heads.