Wayne Shorter :: Moto Grosso Feio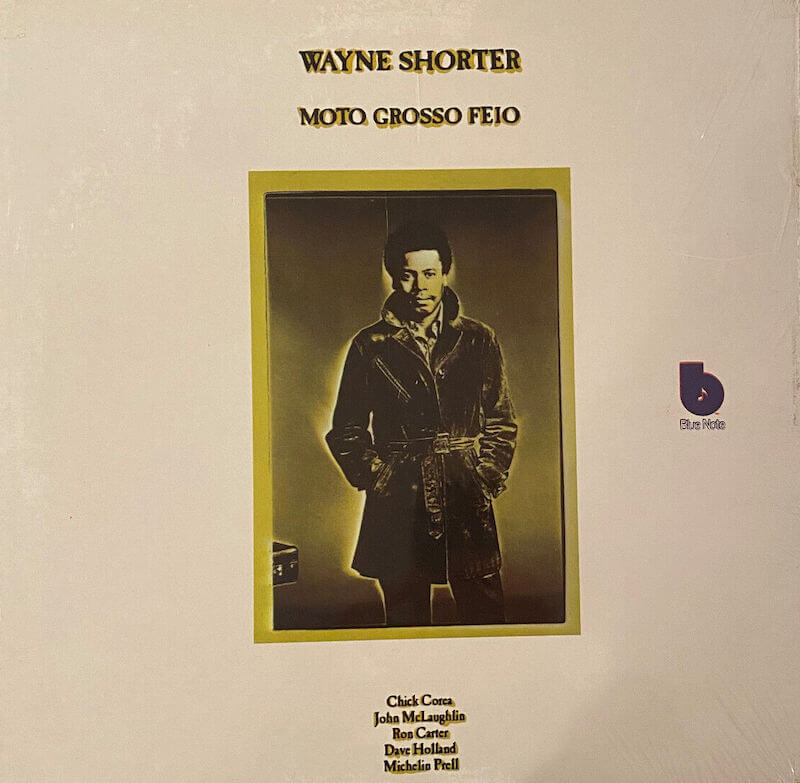 Wayne Shorter played his final, ferocious concert with Miles Davis's band at the Filmore East in New York on March 7, 1970. With his departure, the last link to the Second Great Quintet was severed. Davis's epochal Bitches Brew appeared at the end of that month, detonating like a bomb beneath modern music.  And the musicians who participated in those extraordinary sessions the previous summer constituted something like a blast wave, radiating outwards in every direction—developing in their own ways the sonic forces that had been unleashed. Shorter had recorded Super Nova, his first solo foray into electric jazz with a clutch of other Bitches Brew alumni, Chick Corea, John McLaughlin, Jack DeJohnette—as well as future Weather Report bandmates Airto Moreira and Miroslav Vitouš—just a week after those sessions wrapped. And in early April 1970, a few days after Bitches Brew appeared, Shorter returned to the A & R Studios on 48th Street in New York, with a similar contingent of Miles veterans. (The original liner notes which list the recording date as August 26, 1970, the date Shorter's Odyssey of Iska was recorded with an entirely different lineup, are almost certainly an error.)
If the album's Portuguese language title Moto Grosso Feio is supposed, as the liner notes suggest, to refer to the Amazon rainforest, then something must have been lost in translation: "thick, ugly motorbike" doesn't make a whole lot of sense, but a corruption or mishearing of molto, very, might have been to blame. Either way, the title simply does not do justice to a spacious and hauntingly beautiful record, directed by Shorter's melancholy soprano.
Much of the peculiar charm of Moto is due to the surprising instrumentation. Shorter handles both tenor and soprano, of course. But he has Ron Carter playing cello, Chick Corea on marimba and percussion, and Dave Holland on acoustic guitar. John McLaughlin is credited on twelve-string. Vitouš is almost certainly playing bass; he is discussed in the liner notes, but not listed among the personnel. Worse, the drums are credited to a mysterious nineteen-year-old "Belgian prodigy," named "Michelin Prell"—very probably Liège-born drummer Micheline Pelzer, who played on Archie Shepp's Poem for Malcolm the previous year. An uncredited DeJohnette is also playing drums and thumb piano. Together, this rather madcap, international assemblage make an otherworldly world music, where fado and free jazz and tropicalia intermingle. Listen to how the languid abstractions of the long title track slowly coalesce into a killer bossa groove. Or the conversation Carter's cello and Shorter's horn have atop that serpentine bass and guitar line in the irresistible "Montezuma." There's a heartbreakingly gorgeous version of Milton Nascimento's "Vera Cruz" here, a foreshadowing of Shorter's subsequent collaboration with the MPB legend on 1975's indispensable Native Dancer. Shorter's fluttering sax amid the humid psychedelia of "Iska" hearkens back to Bitches Brew, while pointing the way forward to the first Weather Report album. Hearing a possessed McLaughlin absolutely tear it up there makes one wish he had accepted Vitouš's invitation to join the first incarnation of Weather Report.
After the recording session, Moto Grosso Feio promptly disappeared into Blue Note's vaults. Shorter recorded one more album for Blue Note, Odyssey of Iska, which came out in 1971. By that time, Shorter had joined Vitouš and another Bitches Brew alumnus, Joe Zawinul, in the fusion juggernaut Weather Report. By 1974, Blue Note must have realized that they were sitting on an unreleased album featuring what was now a murderers' row of modern jazz. The slapdash, error-riddled liner notes suggest that they were piecing together the details of the session from memory. Perhaps this has contributed to the relative obscurity of the record.
Wayne Shorter died in Los Angeles on March 2, 2023 at the age of 89, a titan of modern music. People, in mourning and celebration, are returning to an enormous body of recorded music that was astonishingly great from start to finish. Dust off the mid-60s Blue Note classics like Juju and Speak No Evil. Marvel with dropped jaw at what the Second Quintet was doing in December 1965 at the Plugged Nickel. Listen to Wayne's pop cameos on Aja or Don Juan's Reckless Daughter. Funk out to the non-stop groove machine of Sweetnighter. But spare a late, quiet hour for the strange and beguiling, untranslatable world jazz of Moto Grosso Feio. There's something magical about those transitional albums, where everything is in motion. | b sirota
Only the good shit. Aquarium Drunkard is powered by its patrons. Keep the servers humming and help us continue doing it by pledging your support via our Patreon page.