Sessão de Verão 1: Subterrâneo
In the early 2000s, Rob Mazurek, the American composer and cornetist, was recording a lot of music with his Chicago Underground project, variously released under the Chicago Underground Duo/Trio/Quartet/Orchestra name, with only Mazurek and drummer Chad Taylor the constant members. The project could vaguely be described as progressive jazz, with elements of Chicago's "post-rock" scene (by the early 2000s Mazurek had recorded with Tortoise, Sam Prekop, Brokeback, and Jim O'Rourke). The project introduced me to a group of musicians whose music I would follow closely for the next two decades through the present. However, little did I know at the time that another Mazurek project, released in 2006, was about to take me on a completely different ride, one that has, almost two decades later, come full circle.
São Paolo Underground's debut, Sauna: Um, Dois, Três was released in May 2006 by the São Paulo-based independent label Submarine Records. The album was performed by a duo: Mazurek on cornet and electronics and a Brazilian musician that I had never heard of, Maurício Takara (sometimes credited as M. Takara or just Takara), on drums, percussion, and electronics. The CD cover was designed by Chicago-based artist Damon Locks in a street art style, primarily in a strange salmon color, and featured photos of a block-like apartment building and a bus whose destination sign read "Pinheiros." At the time I knew virtually nothing about São Paulo and had no idea that Mazurek had any connection to it; I later learned that Mazurek had actually been living in Brazil for about five years.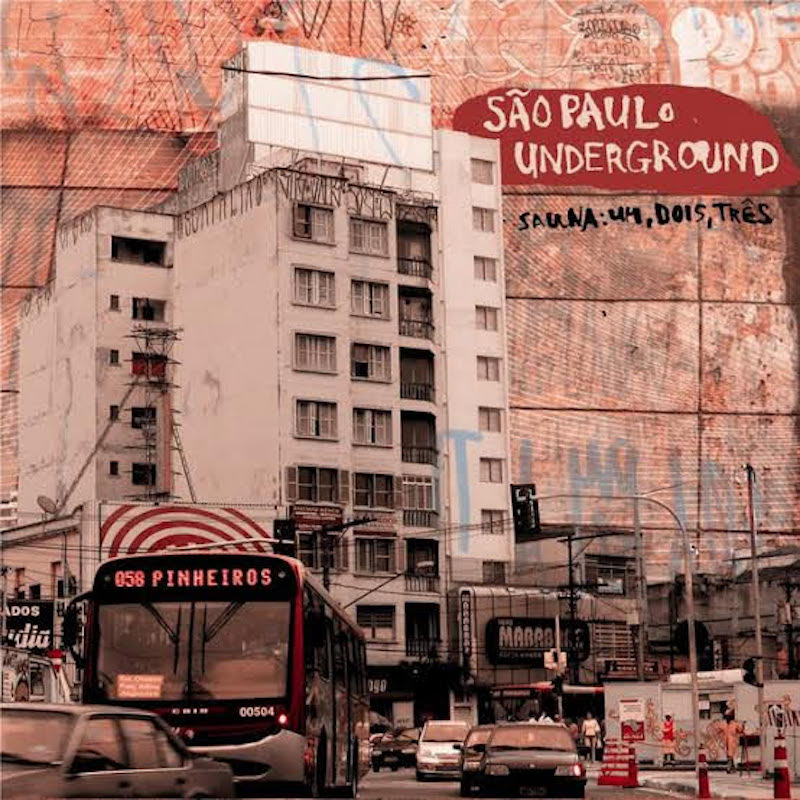 It's an unusual and compelling album. Discogs lists the album's genre as: Electronic, Jazz, Latin and the style as: Free Jazz, Dub, Samba, Downtempo, Contemporary Jazz. It's that much and more. The album is noisy in the sense that there's a lot of cornet, drums, and electronics crisscrossing, but it has this pulse to it that drew me in and includes Mazurek's cornet sound and phrasing which kept me there. The album has a distinct feeling from the Chicago Underground material and the drumming is often steady and fierce. The second track "Pombaral" (loft, in Portuguese) has this infectious hook that Mazurek is known for and the drum sounds pleasantly in-your-face like you're sitting in front of the drumkit during the recording without bursting your ears. The song "Afrihouse" has a funky Afrobeat drumbeat which Mazurek's muted cornet just soars over with a feeling of bittersweet until a cacophony of drums, cymbals, and electronics takes you home in the final minute.
Listening to the album recently, having now experienced São Paulo first hand I am struck by how much of the city is in the music. As someone who's spent a lot of time thinking about "places and spaces" in music (thanks, Donald Byrd), this one goes on my shortlist of favorite place-based music. São Paulo Underground has gone on to release 7 records, one of them 'Spiral Mercury' (2014), a collaborative album with the legendary saxophonist Pharoah Sanders and two other members of the Chicago Underground (Matt Lux on bass and Chad Taylor on drums), and the other, 'Saturno Mágico' (2021), a collaboration with Spanish electronic artist Tupperware, recorded in a disused kerosene tank in Santa Cruz de Tenerife, Canary Islands, as one does.
This past January, I sat across from Takara in his music studio in São Paulo, on the edge of the busy Pinheiros neighborhood. On my way to meet him, I walked by a number of block-like apartment buildings, many tagged with street art, as buses drove by with destination signs saying "Pinheiros." The humid evening air was enveloping and seemed clouded with a strange salmon color. Takara is of slight build, looks younger than his 42 years, and has a calmness about him that is comforting. He was very thoughtful in his answers.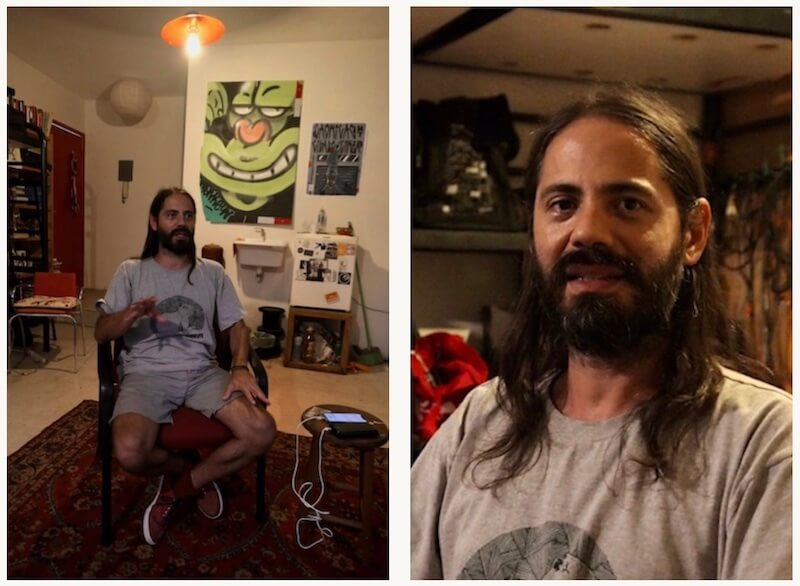 About an hour into my conversation with Takara, I asked him about São Paulo Underground. I confessed that at the time it came out, my initial reaction was an excited "What the hell is this?" Now, seventeen years after that debut, I sheepishly told Takara that this record was the reason I was in Brazil. Indeed, that album and that project slowly opened me up to a world of music and musicians I previously did not know existed. And it eventually led me to the first of what I hope to be more summer sessions (or sessão de verão) in this tropical and musical paradise.
There's a certain pulse in São Paulo, unlike any city I've visited. The noise from traffic, helicopters, work crews, and vendors is constant and polyrhythmic. São Paulo often sounds and feels like it's bursting at the seams. With roughly 12 million people in the city proper and 22 million in the metropolitan region, the megalopolis is loud – one of the loudest places I've visited – and this from someone who lived in lower Manhattan for over a dozen years. Takara told me this comes out in the music. He explained that you're often practicing with many ambient noises in the background, so you've got to play to be heard above the din. Musicians can incorporate those found sounds into their music. As he said this, I could hear many sounds of the street coming through the windows in his studio, the buzz of São Paulo constant. In part due to the pandemic, Takara is temporarily living in Berlin and says there is a lot of quieter music there that would never be played here in São Paulo. He is surprised by Germans consider who consider Berlin loud.
Luckily, I caught Takara when he was back in São Paulo to perform some concerts. As a current expatriate, he spoke to me about the differences between Brazil and Europe. Takara explained that formal music education is limited in his home country. Experiential learning is often the norm for musicians in Brazil. As a result, he said it's harder to find musicians who play orchestral instrumentals, like the cello for example. He also explained that Brazilian musicians tend to be less dedicated to only one instrument, thus, most active musicians in Brazil can play multiple instruments. Indeed, many musicians in São Paulo are multi-instrumentalists who can – and do – play in a variety of styles, even if they may have a primary instrument. Although Takara's main instruments is drums, he's also recorded on electronics, synthesizer, percussion, cornet, trumpet, vibraphone, shehnai, cavaquinho, and voice. He said when choosing collaborators for his music, he thinks in terms of the player, not in terms of the instrument they may show up with. This is in contrast to the musicians he's worked with in Europe, who tend to be a specialist in only one instrument.
Similarly, Takara talked about São Paulo musicians being less bound by a particular style or genre of music. He complained that European musicians tend to be segmented into a particular music "scene," unlike São Paulo where fellow musicians may play traditional samba on one night and then do an improvised set on electronic the next night. Indeed, I encountered musicians more than once live in São Paolo who played in different styles each time. Part of this is out of economic necessity – you play whatever style is necessary. But another part is that many musicians in São Paulo have been exposed to and are open to a variety of different types of music. Brazil has a deep musical tradition, with several styles of music indigenous to the country, many of which are still played today.
Takara explained that this pigeonholing of musicians in Europe for a particular instrument within a particular genre was not good for the music. He is much more fond of São Paulo's approach, where musicians may play a range of instruments in different styles depending on what the setting calls for. He said "it's hard to define what the scene here is" and said it's much more flexible.
Brazil, and São Paulo in particular, has a particularly do-it-yourself approach to making music. In my travels around the country I heard this over and over again. Many musicians and producers learn by doing and often just experimenting. One well-known young musician told me they watched a lot of YouTube videos to learn chords. This comes out in the music, which for many São Paulo musicians can take a more experimental approach. This DIY approach also comes to performance spaces. Takara told me, "the city is so rude to you, so people create spaces they enjoy." He was happy to see that a number of DIY venues have popped up since the pandemic closed many other venues.
Many of the musicians I spoke to in Brazil came out of the punk/hardcore or hip hop scenes of the 1990s, which were rich in DIY aesthetics. Takara said he listened to a lot of punk and hip hop growing up. Interestingly, many of these same musicians are now improvisers. Part of the DIY aesthetic is out of necessity. Since about 2016, public support for the arts has been minimal, which was exacerbated when Bolsonaro took office and did away with the Minister of Culture cabinet position (Gilberto Gil once held this position between 2003 and 2008). Bolsonaro's anti-culture crusade has been a double-edged sword: it has caused some harsh economic realities for musicians, but it's also fueled some key work in resistance by some of Brazil's most creative musicians.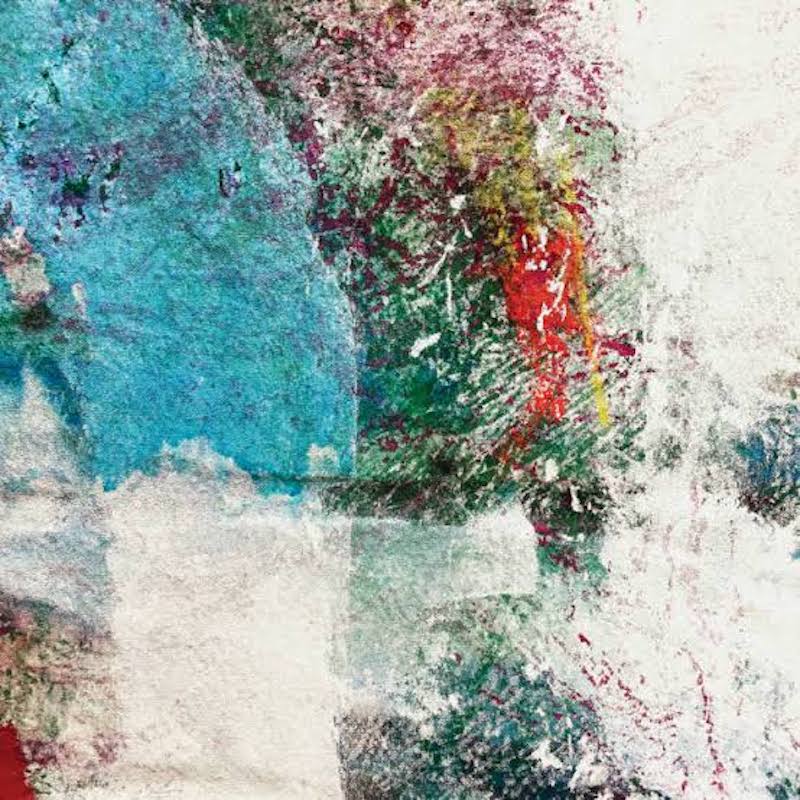 Takara's latest album 'Grande massa d'agua' is with Carla Boregas, who is also his girlfriend. It is their second album as a duo. Takara plays drums, percussion, electronics, vibraphone, and harpsichord, while Boregas plays synthesizer, electronics, gong, field recordings, and harpsichord. Takara and Carla Boregas have also performed together in the band Rakta, a band Boregas started with Paula Rebellato in 2011. Rakta is currently on hiatus, although the members still collaborate; Takara and Rebellato Takara's latest album 'Grande massa d'agua' is with Carla Boregas, who is also his girlfriend. It is their second album as a duo. Takara plays drums, percussion, electronics, vibraphone, and harpsichord, while Boregas plays synthesizer, electronics, gong, field recordings, and harpsichord. Takara and Carla Boregas have also performed together in the band Rakta, a band Boregas started with Paula Rebellato in 2011. Rakta is currently on hiatus, although the members still collaborate; Takara and Rebellato performed together in São Paulo in February.
The album cover art of the latest album from Takara and Boregas is by Rob Mazurek, who now lives in Marfa, Texas, but still keeps close ties to Brazil. Takara talked to me about Mazurek's "incredible creative mind," said that he's been "super generous," and that they are always exchanging ideas with each other, despite the distance. Takara told me that the original idea for São Paolo Underground was to collaborate with various musicians from the underground scene, which they have done live and on record.
Unfortunately, I didn't get to see Takara perform during my time in São Paulo, but I was grateful to finally tell him that the music he created led me here, to the underground. words/photographs Jeff Caltabiano
Aquarium Drunkard is powered by its patrons. Keep the servers humming and help us continue doing it by pledging your support via our Patreon page.