Spirit of France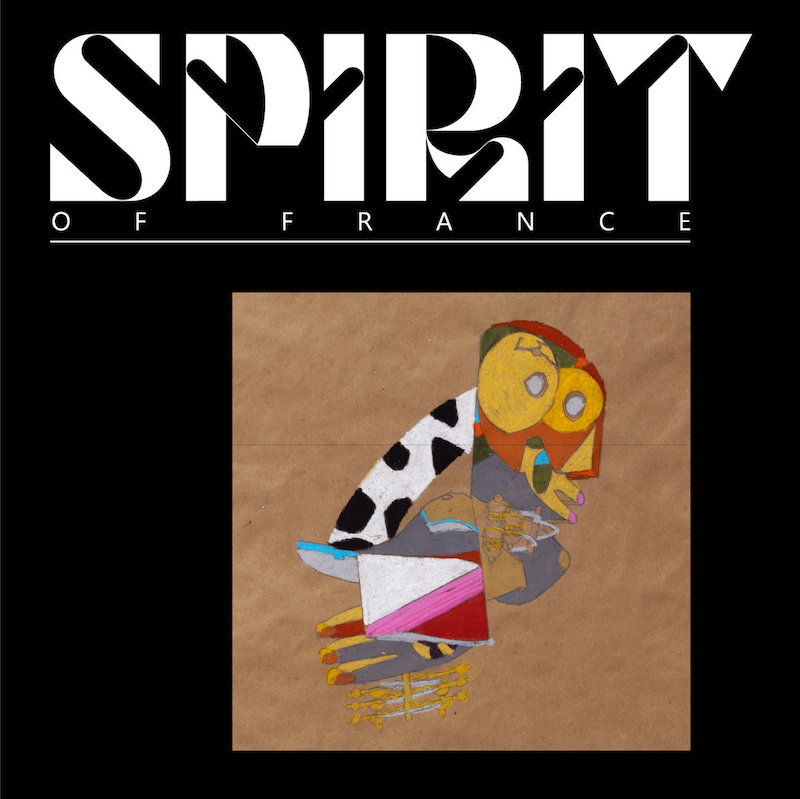 Spiritmuse Records is one of several modern record labels dedicated to reissuing jazz and jazz-inspired music from around the globe. The London-based label's recent Spirit of France compilation showcases "obscure, rare spiritual jazz, deep folk and psychedelia sounds from the French '70s-'80s underground" and is everything that tantalizing description promises.
Spirit of France presents mostly young groups inspired equally by American jazz and the vast and numberless folk forms of Africa, Asia, and South America. It would be impossible, taking into account the period of time in which most of these songs were recorded, to overstate the influence of not only innovators like Coltrane, Pharoah Sanders, and (especially) Don Cherry, but also that of fellow pioneers of cultural cross-pollination such as Ahmed-Abdul Malik, Lloyd Miller, and Paul Bowles, among others. The work of these titans in bridging the east-west gap likely inspired many other border-defying artists to look beyond their native soil for inspiration. The artists heard on Spirit of France, too, took these lessons to heart.
The throughline running through this diverse comp is group improvisation, largely of the modal variety popularized in the US and UK by the post-bop and free jazz of the 1960s. Many of the recordings on Spirit of France feature not only saxophones, contrabasses, and flutes, but also darboukas, tablas, hurdy-gurdys, and even a few unique homemade instruments.
Highlights abound: Workshop de Lyon's "Bujumbura Lyon" finds bassist Jean Bolcato fixed on a circular, almost Gnawa-sounding theme while Louis Sclavis' soprano saxophone probes the melodic material's abstract outer reaches, resulting in a dense, groovy, intoxicating atmosphere; fans of the hypnotic trance-inducing vortexes of Natural Information Society should take note.
Little is known about the mysterious Dynamo, whose lone private-press LP contains scant information about the players or their subsequent work. The group's bold, fusion-y "Arabia" features twinkling Rhodes solos over an ostinato bass vamp and hand drums locked into an incongruous Latin-type groove; it's beautifully, beguilingly baffling. Meanwhile, Noco Music's "Gaal" is a kaleidoscopic conga-and-marimba duo exchange that sounds a little like Khan Jamal performing a Terry Riley piece, or Sun Ra in one of his Saturnian exotica bags.
Unsurprisingly, one of the album's finest selections comes from musician / composer / arranger / bandleader / label owner / visionary Jef Gilson, a man who should need no introduction but probably does. The Zelig-like Gilson did for both French and expat musicians what Art Blakey and Miles did for burgeoning bebop players in the US: he identified and cultivated their talents, in the process employing young artists of future renown like Michel Portal, Bill Coleman, Henri Texier, and even Jean-Luc Ponty. Along the way Gilson played big band jazz, fire music, and everything in between, and founded the collectable Palm label, releasing albums by Christian Vander, Byard Lancaster, David Murray, David S. Ware, and Frank Lowe. Perhaps Gilson's most enduring legacy is the work borne of his frequent travels to Madagascar, an island just off the southeastern coast of Africa, to spread the gospel of jazz and record the local cream of the crop for Palm. (The SouffleContinu label has done commendable work reissuing Gilson's music, and is well worth investigating). "Love Always," Gilson's entry on Spirit of France, builds steadily and languidly on a single four-note pattern, ultimately and almost imperceptibly conjuring the smoldering intensity found in some of Mingus' big band tone poems.
Another peak is "Moving Waves," the fruits of a collaboration between guitarist André Fertier and his loose-knit collective Clivage. "Morning Waves" is a rousing tour-de-force of what could only be described as raga-fusion, blending ecstatic tablas and frenetic santour with Jean-Pierre DeBarbat's bluesy, expressive blowing. DeBarbat—still performing today at age 70—deserves special mention here: with his emphasis on fluttering, middle-register arpeggios and trills, he sounds equally in thrall to Sonny Rollins and Warne Marsh, and he all but steals the show.
Several numbers on Spirit of France are difficult to reconcile with anything we might superficially consider capital-J "jazz," but it is a credit to the label's curators that even these entries sound congruent with the overall spirit of the compilation. The all-too-brief "Sokoto," courtesy of prolific experimental duo Structures Sonores Lasry-Baschet, recalls some of the experimental Fourth World chamber-folk of The Entourage Music and Theatre Ensemble, while Pân-Râ's "Lorely" fixes its gaze a bit closer to home and in the direction of Germany to concoct a dreamy, quasi-devotional jam in the vein of Amon Duul I, Siloah, or Popol Vuh.
Spirit of France provides evidence of the myriad possibilities found in this trans-cultural musical fusion created by groups committed to defiantly rejecting stylistic boxes and signifiers. While much of the music on Spirit of France is at times firmly rooted in French folk music and jazz, its tendrils unerringly reach beyond to a wider and more captivating world. Through their widescreen, often playful desire to discover new musical vistas, the artists on Spirit of France each arrive at their own unique, transcendent kind of magic. The message of Spirit of France seems to be that such magic is always worthy of discovery. Luckily, now we can discover some, too. | j jackson toth
Only the good shit. Aquarium Drunkard is powered by its patrons. Keep the servers humming and help us continue doing it by pledging your support via our Patreon page.